In This Issue
Introduction
Subscribe to This Newsletter
Ads & Catalogs
Popular Items
Quick Links
January, 2011
Dear Soaring Enthusiast,
Happy New Year! Greetings from cold Minnesota. We have had more than our share of snow and cold weather this winter, but the soaring season is only a few short months away. We usually start flying in early to mid April. I can't wait!
It has been a while since my last newsletter! My intent has been to put out a newsletter every month - but this is my first newsletter since January of last year. It has been a very busy year!
Format Change
To help me get the newsletter out more often, the format has changed. I plan to create a new newsletter every month - adding more links, news and information to it on a daily basis as the month progresses. At the end of each month I'll send out an e-mail to remind everyone to check out all the news from the previous month. Since this first edition is going out in mid-January, and items will be added to it as the month progresses, I'll send out a reminder to check it for new items at the end of the month. I'll then create a February version and start adding to it as the month progresses. Unfinished editions will be available at all times so you can get the latest news as it is added.
2010 - A Great Year

Since the last newsletter our family has had a great year. The soaring highlight for me was competing in the U.S. Sport Class Nationals in Parowan, Utah. You can see photos and read more about that adventure below. I also enjoyed a canoe camping trip with my son Adam, sailing our small Laser sailboat with the kids, waterskiing and tubing on Minnesota and Wisconsin lakes on friends' ski boats, and a wonderful trip to Naples, Florida with the family to visit my parents.
Company News
It has been a good year for Cumulus Soaring, Inc.
SSA Convention in Little Rock, Arkansas - January, 2010


The 2010 SSA Convention in Little Rock, Arkansas in January was cold and icy (an ice storm shut down the city for a day or 2), but fun. Unfortunately the ice storm made it impossible for many would-be attendees to make it to the convention. But the convention went well for me and my company - thanks to great help from friends and family members. The photo above shows my 10 x 40 foot booth. Jaxida Cover was hosted in the right end of the booth and Condor was displayed in the left end. I was very thankful for the help of my father Richard, wife Renee, Scott Manley ("Condor as an instructional tool" promoter), and many others that helped out with the setup, operation and disassembly of the booth. And I very much enjoyed the company of Matt Michael for the drive to and from the convention. Thank you everyone!!!
The highlights for me in regard to sailplanes were the Rhönbussard owned by Jerry Wenger and the Schempp-Hirth ArcusT owned by Barry Jaeger.


All the photos I took at the convention are available here:
http://www.flickr.com/photos/remde/sets/72157625809511428/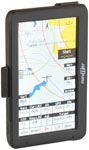 It was clear during the convention that the new Naviter Oudie was going to be a great success, but I never would have guessed that I would sell over 200 of them in 2010. Wow! It is a great product and has been well received. It continues to sell extremely well now in 2011 and likely will for a long time to come.

The other huge success in 2010 was the pre-sales of PowerFLARM units. I was very thankful to receive 139 pre-orders for PowerFLARM units in 2010. Over 600 PowerFLARM units were sold in the USA. That is great since FLARM technology is only useful when other gliders in your area are using it. We had hoped (for safety's sake) that it will be broadly accepted in the USA, but we were all very surprised and happy with the total sales so far. The PowerFLARM units are scheduled for delivery in April of 2011. I can't wait to fly with mine.
2011 - A Look Ahead
Soaring Society of America Conference - Philadelphia, PA - Jan. 27 to 29, 2011

The 2011 SSA Conference will be great fun - I always enjoy catching up with my soaring friends. Note that this year the conference will have speakers, special interest meals and banquets only - there is no display area for sailplanes or product display booths from vendors like me. So I won't be able to have a booth, or be setup to take orders in a public place.
I will be speaking on Saturday, January 29th at 11 AM. The title of my talk is "Sailplane Instrument and Software News". I'll be bringing several of the latest soaring instruments, books and videos to show off during the talk.
Setup a Time to Meet with Me
I will have time to meet with customers during the entire conference. I arrive Wednesday, January 26th around dinner time and leave on Sunday, January 30th in the morning. Let me know if you want to schedule a meeting to play with the latest soaring instruments, software, books and videos, or discuss your soaring instrument or software needs. My office phone (952-445-9033) will be forwarded to my cell phone during the trip.
Hospitality Room
I will be hanging out in the SSA provided "Hospitality Room" when not talking or giving lectures. The hotel's Hamilton Room will be the site of the Hospitality Room. It is located on the other side of the lobby from all the other speaker rooms. The room will have tables setup to make it easy for people to hang out and talk about soaring. I plan to bring a few soaring instrument demos and new books and videos to setup on a table in the room. I'm not sure yet which lectures I will be attending, so I don't know exactly what times I'll be available in the Hospitality Room. Please call me at 952-445-9033 to arrange a time to meet.
SSA Meals, Meetings, Talks, and Events
I plan to attend the events listed below. I hope to see you there.
Thursday, Jan. 27th
Rob Strain - FAA/SSA ADS-B MOU Current Status, 11 to 11:45 AM, Rooms D & E
Mark Maughmer - Adventures in Aerodynamics, 1:30 to 2:15 PM, Rooms D & E
Cumulus Soaring, Inc. - New Soaring Product Demos in the Hospitality Room (Hamilton room), 2:30 to 4:30 PM
Movie Night (see details below), 8 to 10 PM, Location: Room C
Friday, Jan. 28th
Competition Pilots' Breakfast, 7:30 to 8:45 AM
Scott Manley - Flight Simulation, 9 to 9:45 AM, Rooms A & B
Richard Kellerman - Flight Data Development, 10 to 10:45 AM, Rooms A & B
Dave Nadler and Lee Kuhlke - PowerFLARM, 11 to 11:45 AM, Room C
Online Contest Lunch, 12 Noon to 1:15 PM, Flower Room
Cumulus Soaring, Inc. - New Soaring Product Demos in the Hospitality Room (Hamilton room), 1:30 to 4:30 PM
SSA General Membership Meeting, 5:15 to 6 PM, Rooms D & E
Reception: "Comedians of Soaring", 6 to 10 PM
Saturday, Jan. 29th
Cumulus Soaring, Inc. - New Soaring Product Demos in the Hospitality Room (Hamilton room), 9 to 10:30 AM
Soaring Instrument and Software News - Paul Remde, 11 to 11:45 AM, Room C
Round Table - PowerFLARM, PCAS, X-Ponders, 1 to 2:45 PM, Rooms A & B
SSA Annual Awards Banquet, 6 to 10 PM
Movie Night - Thursday, January 27th - 8 PM - Room C - Free
I have a few new or updated soaring films that I would love to show to anyone that wants to view them. I will host an informal Movie Night get-together to view the following films:
Sailplane Grand Prix in the Andes - and the bonus features
Dawn Flight - New full-length version - and the new bonus features.
Zulu Romeo - Good Start - An excellent old film featuring Ingo Renner, Helmut Reichmann, George Moffat and many other famous sailplane racers. Filmed at the 1974 World Gliding Championships in Waikerie, South Australia.
You can see details and the speaker schedule for the conference using these links: Overview, Schedule. I hope you will join us for the SSA Conference. The list of speaker is very impressive - and it is always fun hanging out and hangar flying with glider guiders.
ChicagoLand Glider Council Spring Soaring & Safety Seminar - Elgin, Illinois - Feb. 12, 2011
I have been bringing soaring goodies to the winter Chicago soaring seminar event for quite a few years. As usual, I'll bring some books and videos to sell along with a few of the hottest instrument demos. I'll also be giving a 45 minute talk on the latest soaring products. Let me know in advance if you want me to bring a particular item to the event for you to purchase.
Performance Soaring Seminar and Colorado Soaring Awards - Boulder, Colorado - March 12th, 2011
I have enjoyed watching this annual soaring seminar over the internet for the last few years. This year I will be giving a talk and bringing items to show and sell. Let me know in advance if you want me to bring a particular item to the event for you to play with or purchase. I'm really looking forward to it!
Passenger Needed - From Minnesota to Colorado
I'd love to have someone ride along with me as I drive to Colorado for the soaring seminar in March. Long trips are much easier with good conversation. Please let me know if you can join me. I'll pay for the gas and we can split the cost of a hotel room. I will leave for Colorado early on Friday, March 11th and drive home on Sunday, March 13th - unless there is an opportunity to get some wave flying in!
Thank You
Thank you for taking the time to read the newsletter. There is a lot of interesting soaring news to report from around the world, and I have been very busy adding new products to my web site. I hope you will enjoy it. If you do, please tell your soaring friends about it by forwarding the following link to them:
http://www.cumulus-soaring.com/newsletters.htm
Would you believe that over 3600 glider pilots from around the world read this newsletter?! I am amazed and flattered. I will do my best to keep it interesting and worthy of the time you spend reading it and clicking through the links.
If this is your first newsletter - Welcome! If you missed any of the previous issues of this newsletter, they are all available here:
http://www.cumulus-soaring.com/newsletters.htm
Note: Click on the small images on this page to view much larger versions of the images.
Good Soaring,
Paul Remde

2010 U.S. Sport Class Nationals in Parowan, Utah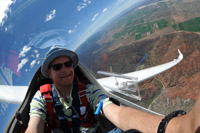 I had the best soaring adventure of my life (so far) in June of 2010. I flew in a DG-1000S with my great friend Richard Andrews in the 2010 U.S. Sport Class Nationals in Parowan, Utah. What an adventure! The weather was wonderful, and I had a great time hanging out with new and existing soaring friends. This was not my first soaring contest, but it was my first contest in mountainous terrain, and my first nationals contest.

I had done a little mountain flying in the past in Minden, Nevada, but not much, so I learned a lot during the contest. I gained a lot of experience in ridge running, bumping along high over the mountain peaks, getting low and working our way back up the sides of the mountains, etc. I loved every minute of it! We saw some tremendous lift at times. I remember one thermal that had the variometer showing an average of 11+ knots and with the needle peaking at 19 knots!!! We don't get thermals like that here in Minnesota. Yet, despite the great lift (at times) the flying was challenging. It was quite windy every day we flew, and (as they say) where there is strong lift - there is likely to be strong sink.

It is the first contest I've flown in a 2-seater - I really like flying in 2-seat gliders! Dick is a more experienced glider pilot that I am, but we shared the flying equally. It sure is nice being able to fly hard for a while and then hand it back over to Dick and relax for a while. Having two pairs of eyes and two brains in the cockpit is extremely nice. It was great to be able to bounce strategy ideas off Dick, and ask for advice, and give advice. We had a great learning and sharing communication scheme that worked wonderfully.

The highlight of the contest for me was on June 18th. The flight started out great - at one point we reached the maximum contest altitude of 17,000 feet and we were making good progress - for a while... But then the lift seemed to shut down for a while. We found ourselves somewhat low and about 86 miles from Parowan, with a 15 to 20 knot headwind to fight on the way home. I was pretty certain that we were not going to make it all the way home - instead landing out at an airport in the valley below us - airports like Fillmore, Kanosh Canyon, Sulphurdale and Beaver Muni. The wind provided lift (of course) on the upwind sides of the ridges that jut out from the mountain. We were able to use the ridge lift to gradually work around to the front side of Mount Delano and up near the peak, but we couldn't seem to find any good lift that went up over the peak - so we didn't quite have enough altitude to make it all the way back to Parowan without finding more lift. We flew home over the ridges that lie to the East of Parowan and eventually made it home. But unfortunately we were not able to find enough lift to make it the remaining 4 miles past Parowan into the final turn area and back - so we didn't complete the task. That was the only contest day we didn't complete the assigned task. But even so, I was thrilled and surprised that we were able to fight our way home. What a challenging, rewarding and educational day!!! You can see the flight log on the OLC web site using the link below.
http://www.onlinecontest.org/olc-2.0/gliding/flightinfo.html?flightId=1403118012
Another highlight was early in the contest - day 2 if I remember correctly. We were zipping along near cloudbase at near 17,000 feet with several other gliders. We were flying fast and having fun, and the scenery was awesome! I think the photo at right was taken on that day.
For me the tough part of flying in the mountains was knowing where to look for lift over the ridge tops. I became better at finding the lift as the contest progressed, but I still have much to learn!
We ended the contest in 24th place out of 44 competitors. I was hoping to do a bit better, but I guess I can't complain - being quite new to mountain flying.
One thing I love about soaring contests is that you are challenged to make long flights - so the miles really rack-up. Over the course of the contest and practice day we flew a total of 1895 cross-country miles and spent 43.25 hours in the air. Wow! Our best contest speed was 70.27 mph - not bad. We flew 9 out of 10 contest days (the wind was blowing 50 mph so they cancelled one day). Our best day finish was 20th place. Considering the competition we were flying against, I was pretty happy with that - but of course I had hoped that we would get extremely lucky and finish in the top 10 at least once. I suppose that as I fly in more contests and gain more experience - I'll get "luckier". Our longest flight was 5 1/2 hours.
I was impressed with how the competitors were so helpful and freely gave us valuable tips on how to successfully fly the area and contest tasks. Every morning Karl Striedieck hosted informal "what worked and what didn't work yesterday" sessions for anyone who was interested. I was very interested! Thanks Karl! Tim Taylor freely shared his extensive knowledge of the area as did David Leonard, Rick Culbertson and many others.
I especially enjoyed getting to know some of the pilots from the U.S. Air Force team. Bill Gagen was always fun to be around - what a great guy!
Thank you Dick Andrews for sharing the adventure with me. We spent a lot of time together during the contest and I enjoyed every minute of it! You are one class act! I look forward to many more adventures with you and the DG-1000. And thank you to Fred Hewitt, our co-owner of the DG-1000, for letting us take her to the contest. She served us well.
Of course, I owe a huge than you to my lovely wife Renee. She was kind to let me go on this selfish adventure. It is not easy working full-time and managing a house and 3 kids all by yourself for nearly 2 weeks. Thanks honey! I deeply appreciated it.
I was very impressed with Parowan as a soaring site. The scenery in the area was wonderful with many national parks to visit. We had time to visit Cedar Breaks, but didn't make it to Brice Canyon or Zion, or to the edge of the Grand Canyon. The locals said that during most contests there is a chance to set a task that goes near the Grand Canyon, but the weather didn't cooperate for that task this time around. I guess we'll need to go back - hopefully soon!


































The photos above are by Paul Remde.

The photos below are by Stan Bissell. Thanks Stan!

The links below can be used to view or download full-resolution versions of of the images above. The photos here are a small sub-set of the complete set of photos.
http://www.flickr.com/photos/remde/sets/72157625812343994/ - Favorite Photos
http://www.flickr.com/photos/remde/sets/72157625804946556/ - All Photos

ClearNav Variometer
The new state-of-the-art variometer from ClearNav is a modular variometer system with connections to external devices - such as the ClearNav Flight Computer and other PDA/PNA systems. It communicates with the ClearNav Flight Computer over a high-speed CANbus network. It also has a serial port for connection to a PDA and a USB host port for use with a USB Flash drive - and perhaps connection to a PDA or PNA.

It will probably be available in 2 versions:
Club Vario - audio vario with averager
Speed-to-fly Vario - audio vario with averager and speed-to-fly director
It consists of 2 components:
Air Data Computer (ADC)
Black box mounted to the back of the variometer or remotely mounted

Display
Variometer display head mounted in the instrument panel. The display can also be used as a 2nd-seat repeater.
Update - January 5, 2011
Today we shipped two ClearNav Instruments varios to South Africa (Blomfontein) for testing. Tomorrow we ship a third to Australia. Not all functions are yet enabled, but we expect to learn enough about the basic variometric performance to allow us to move forward towards production. Amongst numerous advanced features, the vario stores all sensor data to a USB stick during flight. This will greatly aid both troubleshooting and planned further development.

We are aiming to announce a price and features matrix soon.

Richard Kellerman
CG-4a Glider Restoration Project
A group of volunteers in Eagan, Minnesota is working to restore a CG-4a military glider from WW II. They are making great progress. They had a get-together in November of 2010 to show off their work. The photo at right shows me sitting in the pilot seat of the huge glider.

Many CG-4a gliders were built here in Minnesota during WW II. In fact, the company that is hosting the restoration is a privately owned company called Villaume that had a part in building the gliders back in WW II.

Newspaper Article about Ingemar Holm - One of the volunteer working on the glider

The link below is to photos taken of the restoration project in November of 2010.
http://www.flickr.com/photos/remde/sets/72157625805124788/

The link below is to an interesting "history" page on the Villaume web site.
http://www.villaume.com/History/Hist_7.aspx

Sailplane Grand Prix in the Andes - New HD Film on Blu-ray or DVD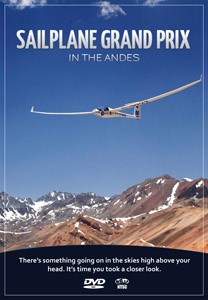 You never knew gliders could do this: The speed, the adrenaline, the breath-taking beauty.

Sailplane Grand Prix in the Andes is quite possibly the most extraordinary aerial footage you have ever seen.

It's the buzz of world championship glider racing blended with the best of High Definition technology to bring the battle for the skies into your living room.

Welcome to Sailplane Grand Prix in the Andes, a multi-feature Blu-ray & DVD tracing the story of one of the most beautiful sports on earth.

Contents
Sailplane Grand Prix in the Andes (full version - 24 minutes) - The one that started it all, this is the cut that was televised in more than 160 countries around the world during the summer of 2010. Sailplane racing like it's never been filmed before.
Sailplane Grand Prix in the Andes' little brother (12 minutes, Dolby 5.1) - a shorter cut, but the audio to the max. Enjoy.
Dinámica - One day in Sailplane Grand Prix - focusing on one decisive day's racing at the World Championship Finals in Santiago. An insider's view and a pumping soundtrack.
(Fantastic! This is the highlight of the DVD in my opinion as a contest soaring pilot. - Paul Remde)
The "Aquarium" shots - throw out your fish tank; we bring you more than 35 minutes of stupendous High Definition sailplane footage set to original music. Turn on, turn up, soar away... Or just have it on in the background at parties.
Kawa in the cockpit - fly with reigning world champion Sebastian Kawa as he puts his aircraft through its paces high in the Andean Cordillera.
Day Six raw race animation - One for the sailplane nerds among us: watch how tactics and lift, experience and nerve play out with the complete race at 20 x real time. Pilot course and tracking over mapped terrain through a six-point 330 km competitive flight. No sound.
Review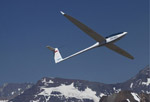 I just finished watching the film in HD (high-definition) on my computer. It is fantastic! The cinematography is awesome! The close-up views of the sailplanes in flight over the Andes are spectacular. My favorite shot has the camera flying through the Andes mountains - introducing the contest "playground". As the camera ship (not visible in the shot) descends, eight sailplanes seem to rise up in front. They are all flying together - perhaps on final glide. This is the first scene showing sailplanes - and it is dramatic and beautiful! The detail and clarity of the entire film are excellent. I can't wait to watch it on a big HD TV. This is the first soaring film available in high-definition (HD) on a Blu-ray disc.
However, the film does not try to document the contest. It does not show the daily results or the drama as the leaders race home at the end of a tight race day. As a soaring contest pilot I wish it did include much more in the way of race details. It does show the winners of the contest about halfway through the film. I guess the film is targeted at a more general (wider) audience than just sailplane racing pilots. However, the extra features "Dinámica - One day in Sailplane Grand Prix", "The "Aquarium" shots", "Kawa in the cockpit" and "Day Six raw race animation" were created with us sailplane pilots in mind. Dinámica is a fantastic segment - my favorite.
The film does do a great job of showing sailplanes in flight in spectacular surroundings. It also is great at explaining what soaring is about and how elegant and lovely and efficient sailplanes are.

Details and Video Preview Clips

Klaus Ohlmann - More World Records in South America
Pilot Report - January 12, 2011

World record 1750,6 km declared triangle, 1755,5 km free triangle and Speed task for a 1750 km triangle with 119,29 km/h.

It was really a great day for me. I have worked so hard for years, of course with a lot of pleasure, to find different solutions for this triangle stuff, which, as we know, is not really adapted for wave-
flying. I'm quite sure, that this is the best solution for the problem.

There are certainly better days than yesterday to do this flight.

The first 200 km were weak and blue until El Maiten. But even then it was not easy to find the best lifts. I stopped climbing most of the time in 4000m due to weaker lifts above. I was one hour too late at the first TP. But the second leg was better than in the planning with one great lift in the middle of nowhere. It was the only one up to FL 195 on this leg, the rest were only weak alignments above the cumulus. After TP 2 I was forced to pass below the clouds in thermals, due to lack of wave lifts, which were strong enough. It was a long trip between "hope and fear" against the wind. I tried always to go more to El Maiten to come back to the first wave line, a little bit closer to home. But finally I went back to the south due to the enormous Rotor lennies formed there. No regrets, up to 9 m/s!! The rest was a last race against the end of the daylight. As always, it was this mixture of adapted planning during one week, hope, determination and good
luck, which makes our sport so exciting.

Klaus Ohlmann

http://www.onlinecontest.org/olc-2.0/gliding/flightinfo.html?dsId=1604149

SPOT Connect
The SPOT Connect turns your "smart phone" into a satellite communicator. It offers the same functionality as the SPOT-2 when connected to a "smart phone" over a wireless Bluetooth connection. In addition to the ability to send pre-defined messages, it can also send short (41 character) "Type & Send" messages - using the user interface on the phone to enter the message. You can purchase message packages in advance ($49.95 for 500 message or $29.99 for 100 message) or pay as you go for $0.50 for each message. The hardware device does not have all the buttons found on the SPOT-2 - a smart phone is required as the user-interface. However, an on-device SOS button in provided for standalone emergency operation. A nifty new feature for all SPOT devices is the ability to have your message and position posted on your Facebook or Twitter account. The SPOT Connect will be compatible with Android (platform 2.0 or later), iPhone, iPod Touch, and iPads when it is ready to ship in February - with Blackberry and Microsoft platforms to follow shortly thereafter.

Details

FREE Bonus Adventure Kit with SPOT-2 - Available Only While Supplies Last
SPOT and Cumulus Soaring, Inc. are offering a nice Bonus Adventure Kit - FREE with every new SPOT-2 purchase - while supplies last (units still available as of January 2011).

The free Adventure Kit includes:
SPOT-2 Flotation Case
15% Service Discount Code - to be used when you order the SPOT service.
Micro LED Flashlight
Lanyard
Safety Whistle
Carabiner Keychain
Safety Tips Bandana
Other SPOT News
SPOT now supports direct updates to Twitter and Facebook for all devices
Keep Soaring - Newsletter from Lake Keepit Soaring Club in Australia
Some kind Australian has added me to the e-mail list that announces the availability of the "Keep Soaring" newsletter from the Lake Keepit Soaring Club Inc. in New South Wales, Australia - and I'm very glad that he/she did. It is a great newsletter! The most recent issue is 41 pages long and includes many interesting articles and photos. It is, of course, written mainly for members of their club, but this Minnesota-based glider pilot reads most of every issue. My favorite article in the December 2010/ January 2011 Edition is entitled "Mountain Flying at the 1956 World Championships". It features some neat old photos of the hot (at the time) Breguet 901, Phillip Wills and even a young Paul MacCready. There are even interesting side-notes written by Phillip Wills and Paul MacCready. Very nice! You can download it (free) here:
Keep Soaring Newsletters Download Page

My favorite short article is from the latest issue is re-printed below. It seems that the Australian author is poking fun at his soaring friends in New Zealand.
It Happened Recently on an Airstrup Near Here... Well not that near here... But some island off to the East of here.

Icktually, it was in NZ so one of the speakers (K) in the conversation below is speaking Kiwi. The Australian (A) is also speaking in Kiwi so he's understood by the locals.

The ictual strup is a narrow cow peddock in the week and a glider strup over the weekends.

Kiwi Pilot: Eh bro, do you want to hev a go in the Blenik?

Australian Pilot, low hours: Sure thing bro. Never Flown a Blenik.

K: Hop in the front then bro.

A: No walk around eh bro?

K: No bro, it's a Blenik eh, and they don't need a walk-around.

The ground crew hooks up the Blenik and as the tug starts moving, picks up the wung and starts to run.

The Australian pilot settles back to enjoy the ride.

K: Hey bro, we're getting a little near to the funce eh!

A: Sure bro, I can see the funce nearly under the wingtup eh.

The strip curves slightly and the Blenik, now nearly airborne, is very close to the boundary funce.

A: Are you flying bro or is it meant to be me eh?

K: It's you bro eh. I've got the dog in the beck with me.
Condor News
Condor Club Class Plane Pack 2
A new plane pack is now available for the popular Condor soaring flight simulator.
Click on the images below to view larger versions.
Schleicher ASW 15
Schleicher ASW 19
Jantar Standard 3
Libelle
Rolladen-Schneider
LS 4
Important Note for Condor Plane Pack 2 Owners
If you purchased the Condor Plane Pack 2 already, you may have received a defective install file. The programmer sent me a note stating that he believes he sent me the wrong install file. Ever since then I have been sending out (on CD and via download) the new version. The new version can be easily identified by the filename. It should be "CondorPlanePack2SetupV2.exe". If you have installed the version that does not have the "V2" at the end of the filename, please e-mail for a link to the updated version. If you need it on a CD, I will waive the $9.95 fee for the 2nd CD but ask that you pay for shipping for the 2nd CD. I'm sorry for this issue, but it is out of my control.
If you installed the first version "CondorPlanePack2Setup.exe" then go to "Windows Start Menu > All Programs > Condor > Condor Plane Pack 2 > Uninstall" to uninstall it. Then install the new version.
New Condor scenery for southern California
http://secure.simmarket.com/
http://forum.condorsoaring.com/
Frank Paynter - Mifflin Ridge transitions video - Condor
http://www.youtube.com/watch?v=l-s-anI6v0s
Frank Paynter - Condor Thermal Helper thermal centering training video
http://www.youtube.com/watch?v=gs61CxgryU8
A Little Condor Humor
Funny opening line during customer phone call (true story): "Help, I've landed out in the Condor soaring simulator. Can you please come and help with the retrieve?" Ted Wilson

Rumo Ao Nordeste (Direction: Northeast)
Rumo Ao Nodeste translates from Portugeuse to English as "Direction: Northeast". It is the name of a new DVD film about some friends, all entrepreneurs living in the southeastern part of Brazil, with a common passion: soaring. In 2008 a 3000 km (1700 NM) expedition was organized. The flight stretched from Bebedouro to Formosa to Barreira to Irecé and Jocobina.

The goal was to explore the remote arid regions of Brazil, using the sailplanes' engines as little as possible, ideally only to takeoff and climb to 2000 feet. Each leg varied between 450 and 650 km (250-350 NM).


Review by Paul Remde
The film captures a fun cross-country soaring adventure in Brazil. It includes some nice footage of some very remote Brazilian countryside, and of lovely long-winged sailplanes and auxiliary-powered sailplanes in flight. If you are considering a trip to Brazil for any reason, you will want to check out this video - and perhaps contact the soaring pilots seen in the film. Watching the film has stirred in me a desire to do a long cross-country soaring expedition! Please note that the film is in the Portuguese language with English subtitles.

Details

Soaring Cafe
SoaringCafe.com is a new resource for gliders pilots. It is the world's first and foremost site for information, news, feature articles and events revolving specifically around and for the soaring community. Featuring the latest and most up-to-date information possible, SoaringCafe.com brings you a wealth of content that will help you keep abreast of world events, happenings, product reviews and interesting stories from soaring enthusiasts and practitioners around the globe. Plus, you can find the latest in technological advances in soaring equipment and planes that can help you become better informed when making decisions regarding your personal soaring activities. And for those just wanting to learn more about the sport, our in-depth feature articles will serve to inform and inspire you to possibly starting your own quest in becoming a soaring enthusiast!

The site is run by soaring pilots Bill Elliott and Rand Baldwin. You can see details on their About page.

Review by Paul Remde
I am very impressed with this new site. They do a great job of making interesting and current soaring news available. It is a great compliment to my Soaring News newsletter/news site and to the awesome magazine from John Roake in New Zealand - Gliding International. I plan to visit SoaringCafe.com nearly every day to see what is new and interesting. I with them the best with this exciting new endeavor.

Below are links to my favorite new articles on SoaringCafe.com:

The Design of a Competition Sailplane - by Dick Butler

Concordia History - by Dick Butler

The 31st World Gliding Championships - by Attie Jonker
Naviter Oudie Case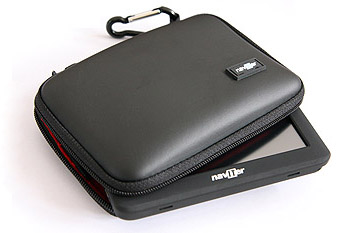 By far the most common reason for repairing an Oudie this year was a broken screen. Oudies were either dropped from altitude to concrete or squashed by the weight of a pilot who did not expect the Oudie to be where it was. Naviter has therefore set out and designed a tough carry case for your Oudie. It is made out of tough rubber-like material which is there to protect the screen. It also includes a carabiner for easy attachment to your pilot bag in order to keep it at the top of the bag rather than down below. A nice, classy touch is the inclusion of the Naviter logo - to help you remember which of your toys is stored inside.

Dimensions: 155 x 105 x 27 mm (6.1 x 4.1 x 1.1 inches)

Note: The case also works great with an iPAQ hx4700 or just about any other PDA or PNA.

Details

Worldwide Customer Support
In 2010 I had my first international paid support customers. I enjoyed working with customers in Australia, the United Kingdom, Canada and Israel. We connected using the free internet phone calls available from Skype. We used screen sharing features in Skype and Adobe ConnectNow so that I could view their computer screen - making it easy to walk them through complex soaring related tasks. I really enjoyed helping them get the most out of their soaring software and instruments. Let me know if there is anything I can help you with.
Dawn Flight - New Full-length Version Available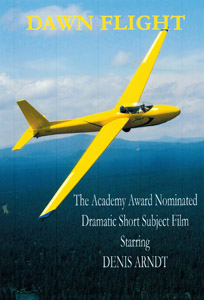 A new, full-length, re-mastered version of the classic short film Dawn Flight is now available. The main features of this new version include:
Full-length version (The previously available version had several scenes removed.)
Remastered - This version is a bit better, but don't expect the moon. The original film used did not yield great results.
Interview with the star Denis Arndt
Commentary version with creators talking over the film
I also have a few of the old "short" version remaining in stock that I'm selling for $9.95. The new version is $39.95. Let me know if you bought one of the short versions recently. I can make you an offer on an upgrade price.
Rudy Opitz Dies - May, 2010
I posted the note below on the rec.aviation.soaring newsgroup on May 10th, 2010.


Sad news,

I just learned from avweb.com that glider pilot and ME 163 rocket test pilot Rudy Opitz has died. He was a remarkable man.

He also flew a Horton flying wing glider to victory in a U.S. soaring contest many years ago. I had the pleasure of meeting him after a talk he gave at an SSA Convention many (15?) years ago.

He was also a part of the team of glider pilots that flew the very successful attack on the Fort Eban-Emael castle during WW II. I believe it was the first time gliders were used for a military attack. He describes the attack in the interesting film "Silent Wings":
http://www.cumulus-soaring.com/videos.htm#SilentWings.

He certainly lived a full and interesting life!
http://www.avweb.com/eletter/archives/avflash/1627-full.html#202518

http://www.riverviewfh.com/obituary.php?w=1220

Video of Me-163 Rocket Plane:
http://www.youtube.com/watch?v=3Cz3ftXZpsw

Nice Article about the Me-163 by Rudy Optiz
http://homepage.ntlworld.com/andrew.walker6/komet/flight/flight1.htm

A life well lived Rudy! Well done!

Tasman V2000 Variometer
Tasman has announced the V2000 Variometer. The V2000 is functionally identical to its predecessor - the V1000. The only difference is that the V1000 had a more colorful control panel and function buttons. Some customers thought it wasn't "classy" due to being "too colorful". The V2000 addresses that concern very nicely with its simple black and while face and buttons. It looks great in any instrument panel.

Video Overview of the V1000 (functionally the same as the V2000)
New Jaxida Cover Exclusive* option available
The standard Jaxida covers have a great reputation around the world for high quality and long life. However, no product lasts forever outdoors in harsh environments. Jaxida has now released an optional new Exclusive* version which offers the features listed below. The option ads 10% to the cost of the covers. I highly recommend it.
* Material:
two year guarantee
lighter in weight
stronger
100% UV-protection
100% water proof
color fast (does not become yellow)
32nd World Gliding Championships - Uvalde, TX - Google News Group
The organizers of the 32nd World Gliding Championships to be held in Uvalde, Texas have recently
released a Google News Group. This is the official discussion forum for teams, competitors and fans on topics concerning the 2011 Pre-Worlds and the 2012 32nd World Gliding Championships.

This new Google Group is moderated and can be found here:
http://groups.google.com/group/wgc2012usa/topics

Please read the terms of use before posting.

Amelia Earhart - The Turbulent Life of an American Icon - by Kathleen Winters
I just finished reading "Amelia Earhart - The Turbulent Life of an American Icon". I enjoyed it thoroughly! The author Kathleen Winters did a great job researching the available information and pulling it all together in an easy to read and interesting book. I learned a lot about Amelia - about her strengths and shortcomings. I think Kathleen's analysis of Amelia was very accurate.

Certainly, Amelia was an adventurer. I'm sure all glider pilots feel like adventurers at some point - especially when heading out on a cross-country flight. So I could relate, to some extent, to her excitement and apprehension before big flights, and to her passion for aviation.

It would be easy for pilots today to think that Amelia was a bit "low key" in regard to some of her pre-flight preparations and radio navigation knowledge and experience. But it must be remembered that she was a pioneer and an adventurer - and there were great risks in the great accomplishments she made and attempted.

For those who did not know the author Kathleen Winters - she was a glider pilot here in Minnesota who set many state soaring records in Schweizer 1-26 and Libelle gliders. Sadly, she passed away in 2010. She will be sorely missed. I wish Kathleen was here so I could tell her how much I enjoyed the book.

Certainly, Kathleen lives on through her wonderful books.

I think you may also enjoy it. You can see details and order it from Amazon.com here:
http://www.amazon.com/

Note: I do not sell this book.

News from LXNAV
I am very impressed with the new products from LXNAV. They are state-of-the-art products at good prices.

LXNAV Nano

The Nano is a fantastic little GPS flight recorder with full IGC approval for all badge, record and contest flights. It is extremely small (see photo below with the unit in my hand) and includes a built-in GPS engine, built-in GPS antenna, built-in battery, and logger. It is also extremely easy to use. Just use the built-in setup software to enter your name, glider data and task declaration, then turn it on and go fly. And it is the lowest priced IGC approved flight recorder available at only $569.

NanoConfig v1.2 - Update
If you own a Nano - you will want to download the latest version of the NanoConfig software that is installed on the Nano. Simply use the links below to download the file. Then copy it onto the Nano - replacing the previous version.
http://www.lxnav.com/download/software.html
http://www.lxnav.com/news.html
LX 9000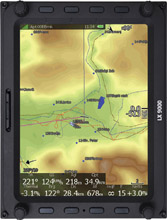 The LX 9000 is a high end vario navigation system with extremely bright color 5.6" display, running on well proven LX 8000 firmware with multi-language interface. Simple and logical user interface is designed for top-level competitors, club operation as well as for gliding beginners. It is preloaded with worldwide terrain maps, airspace and airports databases. It offers an IGC approved GPS flight recorder according to the highest level IGC specification. It manages complex tasks with assigned area manipulation and real-time flight optimization according to FAI and OLC rules.
I recently received my first LX 9000 unit. Wow! The display is fantastic and the vario is extremely nice. It is the nicest looking variometer I have ever seen. It is easy to read and will look very classy in any glider. You will be seeing a lot of LX 9000 units in the hottest ships in the coming years.
Similarities with SeeYou Mobile
Since the LX 8000 and LX 9000 software was developed by the same software programmer that developed SeeYou Mobile, there are many similarities between the two programs. Especially now that the free LXStyler program can be used to customize the screens in the LX 8000 and LX 9000 - SeeYou Mobile users will be very comfortable with the LX 8000 or LX 9000. The information boxes at the bottom of the pages are very much like the Nav Boxes found in SeeYou Mobile. The main difference is that SeeYou Mobile relies on a touch-screen user-interface while the LX 8000 and LX 9000 use buttons and knobs or a stick-mounted remote for the user-interface. Some pilots feel that touch-screens are tough to use in a sailplane that is bumping along in turbulent conditions. SeeYou Mobile users will need some time to get used to the buttons and knobs or stick-mounted remote user interface, but will soon feel at home with the LX 8000 or LX 9000 - and they will love the extremely bright display used on the LX 8000 and LX 9000.
ArcusT Review by Ron Clarke
A State of the Art Sailplane (The Arcus T)
by Ron Clarke (ZA)
I was extremely lucky to get to fly Barry Jaeger's new Arcus T together with him at the Senior Nationals in Florida in March of 2010.
This Sailplane attracted way more than average interest from pilots and others at the field and rightfully so. It is, in my opinion the finest glider I have ever flown in my better than 4000 hours, and I'll tell you why I say so.
I did by the way send a message to Schempp Hirth to apologize for not finishing higher in the standings ( 18th out of 58 ), as I know it would have finished higher in the hands of a better pilot. We finished in the top 6 and top 8 raw speeds on 2 days, consoling ourselves with the thought that our first contest day was in fact the first task we'd ever flown it in.
This glider handles like a dream - the first landing was in 90 degree cross winds near limits. No problem .
The glider finish is excellent with cockpit comfort to match ( I'm 6' 2" ). The panel has been beautifully designed to allow a ClearNav installation in the center ( front and back ) and despite my growing up in the pre-computer days I worked at learning the ClearNav and really got to like and trust it - within a few days. Excellent visibility in all lights and we set it up with just the data we really wanted for flying tasks.
Back to the Arcus T - Like any new glider it obviously takes time to figure out the optimum flap settings ( there are 8 ) , but the advice from the factory crew at the SSA Convention got us started with default settings and after 6 days I thought I had it figured out.
This glider will out run and out climb many of the best and I now think of it as a "no excuses" racing glider in the 20 m class. If you really want to view some performances check out our flight logs ( go to "phases" if you have See You software ) and view the L/D performance on some long runs at speeds of 90mph + mostly in the "Blue". They can be found on the OLC under my name for the 3 contest days 3/7 , 3/8 , 3/10.
Maybe a small point but for me this glider has the best landing gear suspension and wheel system ever . I really enjoyed the ride after landing! It is of course heavy to rig, although it went together quite easily after a few times. A big plus for any prospective buyer would be a hangar to allow keeping it rigged.
My guess is that this glider has a very great future ahead and if you should ever get the opportunity to fly one grab it - you will not be disappointed .

Soaring Beyond the Clouds - Einar Enevoldson Reaches for 100,000 Feet
Soaring Beyond the Clouds tells the fascinating story of Einar Enevoldson's life on the leading edge of flight. It is a book that will be enjoyed by all aviation fans whether or not they are pilots.
Review on rec.aviation.soaring by Val Paget
"Add this to your Christmas list!

Author Bertha Ryan, MIT educated aerospace engineer and much honored aviator, puts you in the backseat and takes you through Enevoldson's many amazing and often tense moments as a glider pilot, Air Force pilot, and NASA research test pilot.

Einar Enevoldson is forever connected to the world record altitude flight he and Steve Fossett made, but that is just one of his amazing flights. Recovery from a flat spin while testing an F-14 and his land-out in an F-104 are just two of the "interesting" moments described.

The Appendix, a four page, two-columned list of the planes Enevoldson has flown, adds the final "Wow!" factor.

Ryan presents the complexities of the aviation design, flight characteristics and aviation weather in ways that both the general reader and an aeronautical expert will find fascinating. The information about such phenomena as the Stratospheric Polar Night Jet deepens our understanding of the world of high altitude flight. The stories about Enevoldson and other illustrious people in aviation, and the many pictures make this book an essential part of any aviation collection.

Ryan is generously donating all proceeds to the SSA. Go order copies for yourself, your friends and family."
SoaringNV News
Minden Wave Camp
SoaringNV will hold its annual Minden Wave Camp April 11 - 16. You don't need to be a high time pilot to fly safely in wave or to learn from our seminars. Come join us for a special event!

SoaringNV OLC Weeks
SoaringNV is planning some cross country weeks with mentored flying and daily entrance of the scores on the OLC (On Line Contest). We'll bring in guest pilots to fly with people who are new to cross country flying. For experienced cross country pilots, fly with us during that week, in your glider or ours. Come share the camaraderie of SoaringNV and the Minden glider community.

May 23 - 28
July 25 - 30
August 22 -27

Mark these dates on your calendar -- and come spend a few days or a week enjoying Minden's classic thermal cross country soaring!

Call Laurie or Fred at 775 782-9595 to reserve a place.

http://www.soaringnv.com

Sailplane Design - 2nd Edition
The 1st edition of this book was extremely popular. It is a very complete and thorough "bible" on sailplane design for students and designers. Please take a look at the Table of Contents for a complete list of the many subjects covered. It is similar in concept to the book "Fundamentals of Sailplane Design", but (according to the author) this book takes the idea farther and includes practical design examples.
Changes in this 2nd Edition
This version has a smaller physical size - making it lighter and reducing shipping costs
The "meat" of the book is the same as the first version but the chapter related to the winglet design has been rewritten by the author in a pragmatic way. In character with the rest of the book. As a consequence, the writing of Maughmer has been substituted with the Chapter written by Mr. Pajno.
Power-Sonic PS-12140 Battery
Sealed Lead-Acid, 12V, 14.0 Ah
This is a nice large battery for use in gliders with many electronic gadgets. It features Absorbent Glass Mat (AGM) technology for superior performance.

It is the same size and has the same connectors at the PS-12120 battery, but it offers increased capacity - being rated at 14 Ah rather than 12 Ah. The price is the also the same as the PS-12120.

Dimensions:
Length: 5.95 inches (151 mm)
Width: 3.86 inches (98 mm)
Height" 3.70 inches (94 mm)
Height over Terminals: 3.94 inches (100 mm)
Approximate Weight: 9.0 pounds (4.09 kg)

Sale - The availability of this battery makes my stock of new Power-Sonic PS-12120 batteries somewhat obsolete - so I am selling my remaining inventory of PS-12120 batteries at a greatly reduced price of $19.95. You can see details on the Sale page.

Vintage Soaring Photos
I just love old soaring photos. I'll try to include a few here each month.

The photo at right was received in an e-mail from Josh at the Vintage Sailplane Association. The photo was provided by Raul Blacksten, who also provided the caption, "Major Lewin Barringer, head of the US Army Glider Program at the beginning of WW II, in a TG-5".

Josh also provided the photos below of Steve Noyes freshly restored TG-2 in which he just soloed. Congratulations Steve!


Below are links to some videos of the event.
http://www.youtube.com/user/n888ka?feature=mhum#p/f/6/SfeOhf0jcEA
http://www.youtube.com/user/n888ka?feature=mhum#p/f/7/7cPV9fvNrzA

OLC Rule Changes for 2011 - Provided by Doug Haluza
The new OLC season has started. There are a few rule changes everyone should know about.

The FAI-OLC score is now a 30% bonus on the OLC Classic score, and this combined score is now called OLC-Plus.

For the OLC classic score, legs 5 & 6 are no longer devalued. All six legs are scored @100%.

There is now a Barron Hilton Challenge for flights on an electronically pre-declared triangular course.

Most importantly, the submission deadline has changed to 48 hours after landing (not midnight Tuesday as before).

For more info, go to the OLC web site: http://www.onlinecontest.org/olc-2.0/gliding/

Doug Haluza
SSA-OLC Admin

Details on the changes the OLC web site - You may need to scroll down to get to the English language section.

Wonderful Old Soaring Home Movies
by Bob O'Neal

One of our Texas Soaring Association (TSA) members, Dave White, discovered a VHS tape in a dusty old drawer at TSA made by June Wiberg who compiled and narrated all of her old glider days home movies from the 40's to the early 60's and sent it to TSA. June was the wife of Wally Wiberg, who owned a flying ranch in Grand Prairie, Texas that became the home of TSA in the 60's and 70's. Wally owned the Screamin' Wiener later renamed the Lil' Dogie.

Dave put the VHS tape on a DVD which I converted to mp4 and posted in 11 segments on YouTube with a little description. The tape has 8mm footage of the 1952 Nationals in Grand Prairie featuring a few minutes of the Horten IV flying wing (Rudy Opitz) and the RJ5 (Dick Johnson).

It also contained Torrey Pines beach landings, the 1955 Nationals in Florida, the first flight of the Sisu, many, many LK's, TG-3's, Pratt-Reeds, even footage of 1936 Wasserkuppe. More importantly, it has lots of footage of gliding legends who were (are) still in their youth.

Part 1 of 11 1952 - Texas Soaring Association
Gliders - Screaming Wiener, Lil Dogie, Pratt-Reed, BG-6
People - Phil Easley, E. J. Reeves, Wally Wiberg
http://www.youtube.com/watch?v=RAkpVnbWo3A

Part 2 of 11 1952 Nationals at Grand Prairie, Texas, Texas Soaring Association
Gliders - Horten IV, RJ-6, Tiny Mite
People - Dick Johnson, Rudy Opitz, Ken Jacobs
http://www.youtube.com/watch?v=0M84AKSyGZk

Part 3 of 11 1954 Texas Soaring Association
Gliders - AV-36, Flying Plank, 1-23, TG-3, Pratt-Reed
People - Jon Carsey, Larry Gerlein
http://www.youtube.com/watch?v=jbnhvrSvBeY

Part 4 of 11 1955 Nationals in Elmira, New York
Larry Gerlein, Rudy Opitz, Bill Coverdale, Bill Ivans
2-25
http://www.youtube.com/watch?v=HzX5bYDUmZ0

Part 5 or 11 Local Texas Soaring Association - Early 1950's
Lil Dogie, TG-3, Minimoa, Wei he, Double Tow
http://www.youtube.com/watch?v=S9HQE44aOgs

Part 6 of 11, December 1958, First flight of the Sisu
Len Niemi, George Coder
http://www.youtube.com/watch?v=neTI3W8vxi0

Part 7 of 11, February 1959, Torrey Pines California
Pratt-Reed, Baby Bowlus
Joe Lincoln.Wally Wiberg
http://www.youtube.com/watch?v=l_rEcUqtSJ0

Part 8 of 11, 1948 Nationals, Sanford, Florida
Pratt-Reed, LK,
E.J. Reeves, Wally Wiberg, Fritz and Baby Compton
http://www.youtube.com/watch?v=Jsrosc5XqRo

Part 9 of 11, 1948 Nationals, Sanford, Florida
L-100, Teco Teco
http://www.youtube.com/watch?v=UalOJvV1NbE

Part 10 of 11, Texas Soaring Association - Early 50's
Dick Johnson, Ken Jacobs, Oats Schwarzenegger
http://www.youtube.com/watch?v=RQHY9EjZmgo

Part 11 of 11, 1936 Wasserkuppe
Karl Bauer
http://www.youtube.com/watch?v=5Nk50u8MXT8

Bob O'Neal
Texas Soaring Association

South African Soaring Safari - Roy Bourgeois
Roy Bourgeois has had some wonderful soaring safaris in Bloemfontein, South Africa in recent years. I always enjoy reading his blogs from his adventures. You can read about it using the link below.

Link to Blog

This year he suggested that I may be particularly interested in his Day 10 report. I was! It is copied below.
Today started off with an incident on takeoff with the Nimbus bouncing along with about 320 lbs of water ballast when the control stick (which is usually fully deflected to both sides at the beginning of the roll) jammed in the full right position. The right wing dropped and I was reaching for the tow release when I was able to overcome the jam and get control back. What occurred was something I have never seen or heard of before: There are holes in the back of the PDA cradle (which has a rounded bottom edge) and during a bounce the cradle went down and the push to talk button on the top of the stick depressed and got stuck in the hole. Once the spring loaded button popped into the hole it was stuck and it wasn't until I forced it back (dislodging the button from the stick) that I got control back.

These photos explain the problem. Note the hole and the rounded edge of the back of the Cradle.

The next photo shows how the button on the stick locked up into the hole:

Top view of the cradle & stick locked together:

I have never heard of this happening before -but I would recommend that users of this type of cradle (or any with holes in the back) fill in the holes with plastic resin or something.
Note from Paul Remde
I don't sell that particular PDA cradle, but I thought this information was important to pass along. Be very careful when installing items in the cockpit so that they cannot interfere with the operation of any flight control.

ILEC News
New Goddard Cables for Connecting an SN10 to a FLARM or PowerFLARM
The SN10 works great with FLARM and PowerFLARM devices. The SN10 can even send a task declaration to the FLARM or PowerFLARM. However, the SN10's 12V power output does not provide enough current to power a FLARM or PowerFLARM. Therefore, we have created 2 new SN10 wiring harnesses for use with FLARM and PowerFLARM units. You can see details using the links below.
SN10b-Pnl-FLARM-Pwr-1 - for connecting a FLARM or PowerFLARM to the SN10. 12V power leads are included on the wiring harness for powering the FLARM unit.
SN10b-Pnl-PS5a-FLARM-1 - for connecting a FLARM or PowerFLARM unit to the SN10 and a PDA or PNA. The 12V power for the FLARM unit is provided by either a Goddard PS5a power converter, or an Oudie power/data cable.
New Software Version 2.35 for ILEC SN-10 - FREE Upgrade
There is a new version of the SN-10 software which is available now - free of charge. The new version includes support for FLARM and PowerFLARM devices, assigned area task workload reduction features, and a few bug fixes.
The software is available here: http://www.ilec-gmbh.com/software.htm

Cloudstreet Journal - 1st Edition Available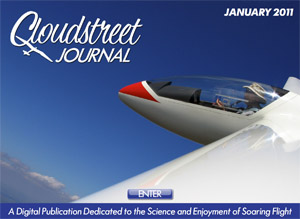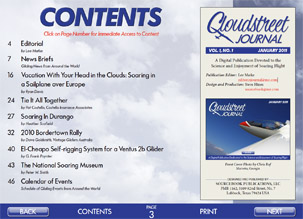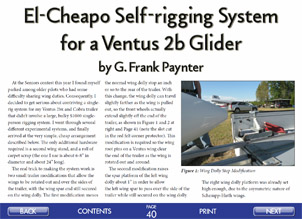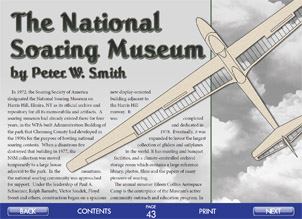 Cloudstreet Journal is an exciting new digital publication from Steve Hines (formerly with the SSA magazine) and Lee Matke. The first edition was released recently and it is very nice. It is available on a subscription basis for $48/year. I have subscribed and look forward to the 2nd issue - due out in a few days. I hope that many glider pilot subscribe - because it is a great idea and very well executed.
Learn More about Cloudstreet Journal on Facebook
To Subscribe: editorcsjournal@me.com

Soaring Flight of the Month
Send me a short write-up of your best recent soaring flight - and I may just include it here. Please include a link to the flight details on the OLC and a few photos

Polish Soaring Calendar
Below are some nice images from a soaring calendar from Poland. I don't sell it, but I thought it was very nice.
Contact: Marcin Blus
e-mail: marcinblus@wp.pl
Web site: http://www.wak.pl/gliding-calendar-2011-p-211.html?language=en


Instrument Panel Photo of the Month
I sell a lot of soaring instruments, but I rarely get to see them installed and ready to fly. I really enjoy receiving photos showing how the items purchased from me have been put to good use. It makes my job more interesting and fun! Feel free to send me a photo of your glider panel if you especially proud of how it looks.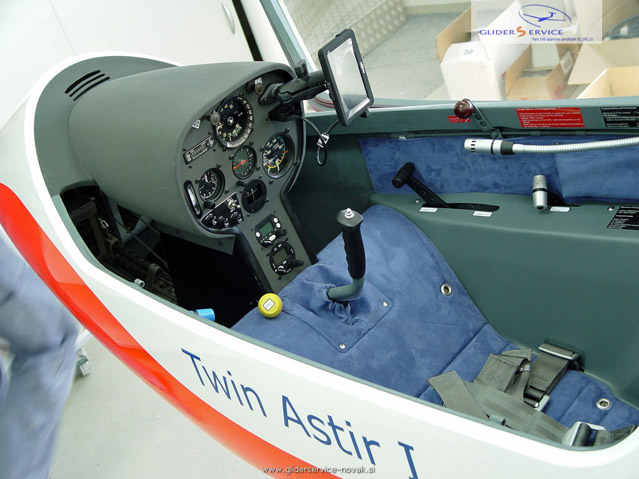 The photo above is from Tony Wiederkehr. It shows the cockpit of his Grob Twin Astir as it looks after being restored by Glider Service in Slovenia. It looks like they did a fantastic job! Many of the instruments in the photo (2 x Naviter Oudie, mounting arm and cradle, Cambridge 302 and 306, 2 x Winter altimeter, Trig TT22 transponder, Becker AR4201 radio) were purchased from Cumulus Soaring, Inc.
http://www.gliderservice-novak.si/
Thank you so very much for sending the photo Tony! It made my day!

SALE Items
BatteryMINDer® Solar Charger-Controller-Desulfator 12 Volt with 5 Watt Panel
Model: SCC005
These have not been selling, so I have dramatically reduced the price. They are new units. Sale price valid while supplies last. I have only 2 remaining in stock.
Normally: $129.95
Sale Price: $49.95

Details

---
Cambridge Aero Instruments GPS-NAV Model 10 - Used
This is an IGC approved (for everything but national and world records) GPS flight recorder at an amazingly low price of $295. I has all new batteries and will get a new calibration before shipment. It is somewhat big, but it is a great deal.
---

United Instruments Altimeter, 35,000 feet, Kollsman in inHg
I have too many of these in stock. The normal price is $995. They are all new and perfect.
Calibrated to 35,000 feet
Sale Price: $925
---
Compaq Aero 1500 Pocket PC - Used
I have purchased a few of these classic and valuable Pocket PCs from customers that traded up to other devices. Many glider pilots still love this old PDA because its black and white display is easier to read in sunlight than newer color PDAs. Glide Navigator II soaring flight software runs great on it. All the units have been thoroughly tested and approved by Cumulus Soaring, Inc.
All units include:
Good screen with no major defects or deep scratches - some units with defects are available at a lower cost
Wall charger
Desktop cradle (not for use in a glider)
Good (as far as I can tell) main battery
New main battery
New backup battery
Soft case
Stylus
All buttons tested
Serial port tested
---
Wanted: Cables and Cradles for Compaq Aero 1500 PDAs
Let me know if you have any good, used power/data cables or cradles for the Compaq Aero 1500 PDAs. I need any I can find because the power/data connectors used in the cables are no longer available.
---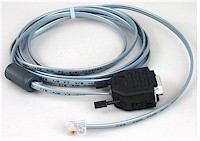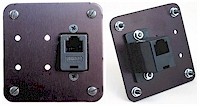 Cradle for Compaq Aero 1500 Pocket PC - Used
I have purchased a few of these classic and valuable cradles and their accessories on the used market. Each cradle has different accessories included, so please call me for a price. If necessary, we can also discuss and desired accessories. Some include the RAM mounting arms, some do not - but I have mounting arms (listed below) which work great with this cradle.
Photo of the Month
Regular feature - Photo of the month
Please send me your favorite soaring photos and I'll include my favorites here. I just love soaring photos!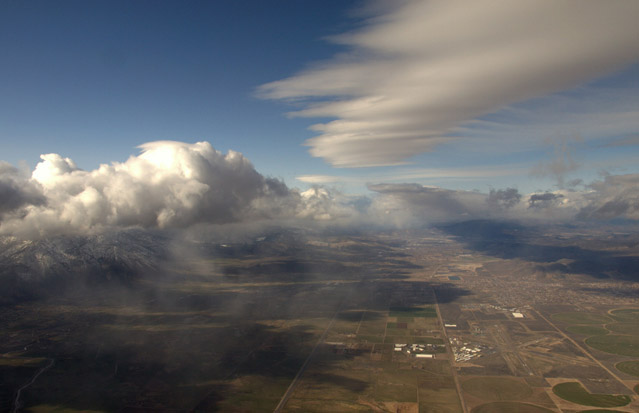 Photo submitted by Fred LaSor of SoaringNV.
Hugh Milne of Big Sur, California, flying over Minden, Nevada, USA in early April.
Note the wave cloud and Minden airport is clearly visible in the lower right corner.
Click on the image to see a larger version.

Fun & Interesting Soaring Links
Below is a collection of fun and interesting soaring links.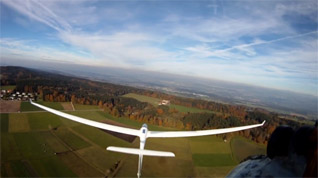 Large (8.4 m span) Radio Control ASH-31M Glider and Power Plane RPV Formation Flying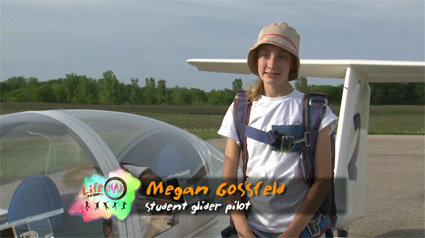 Young Minnesota Glider Pilot Student Megan Gossfeld on Life to the Max - Available in HD
Cross Country Soaring on The Flightline TV show

Build A Duster - Blake Miller
The Duster Builders Group:
http://groups.yahoo.com/group/dustersailplanebuilders/
Photos by Paul Remde from 2004 U.S. Region 7 Soaring Contest in Illinois

Flight of the Rhonbussard
Gliding School for Kids in Lithuania
I recently had the opportunity to view an art showing by Minnesota glider pilot Stephen Nesser. He gave a very interesting talk about art and tips for students of art. I'm not an artist, but I enjoyed the talk and the art very much. You can see some of his aviation related paintings here.
http://www.stephennesser.com/aviation.html
Gliding Federation of Australia - Documents - Sport
Impressive take-off by a foot launched Swift rigid hangglider!
Interesting Accident Investigation Report on ETA sailplane break-up in 2003

TG-2 Photo Flight

Schleicher K8 Flight - Video
DG-1001M Video

New Schleicher company brochure

First assembly of ASH 30 Mi

Very nice looking aviator watches from Walter Schempp - the son of Martin Schempp (founder of Schempp-Hirth)
http://www.schempp.eu/index.htm

75 years of Schempp-Hirth

Arcus E Electric Sailplane - First Flight
Schempp-Hirth Arcus M first flight

Soaring above the Aletsch-Glacier/Switzerland - Video

Solar Drone Sets Endurance Record

Klaus Ohlmann and Christian Holler video - Excellent!

Bertha Ryan Article

Very cool weather map - Put your mouse pointed over points on the map to see weather data for that site!
http://www.wrh.noaa.gov/zoa/mwmap3.php?map=usa

NASA Space Shuttle Videos in HD
http://www.youtube.com/watch?v=W2VygftZSCs
http://www.vimeo.com/5630246

Alex touches down with plenty to caw about

The Aerosente Glider Workshop - Vintage and Classic Scale Airplanes

Peregrine Falcons Inspire New Thermal Soaring Strategy for UAVs

Paul MacCready on nature vs. humans
Paul MacCready flies on solar wings

Paul MacCready - Profile on Ted
Gossamer Condor: The Movie

LSA Might Not Be the Only Solution to an AWOL Medical Certificate
1968 WGC LESZNO

Soaring To New Heights - see pages B12-B13
From sailplane to strike fighter - Naval Academy midshipmen show leadership, love of aviation through soaring

Johan Gustafsson World Advanced Glider Aerobatic Champion 2010

UK Ridge video

VGC Rally held at Tibenham, Norfolk (Norfolk Gliding Club).



Mitch Polinsky: Soaring Like a Hawk

Time Lapse of Ephrata, Washington Flight Line

Free digital charts from the FAA

The Aviators

The Almost Useless Aviation Knowledge Test

First flight of Space Ship 2

Top 10 Low Passes (not gliders)

George's and Jeff's Excellent Motorglider Adventure

Icare 2 - Klaus Ohlmann

Mystery Plane - Unknown Antique Homebuilt Glider

September 1941 Popular Science article - see page 60

First Solo video

Pterosaurs might have soared 10,000 miles nonstop

Fleet of motor-less gliders in flight at Elmira in New York, United States - neat old film!

First Glide Flight of Space Ship 2

The Evolution of U.S. Contest Soaring - by John H. Cochrane

SeeYou Mobile version 4.0 available

How Much Does A Hurricane Weigh? (in terms of elephants) - NPR

Friendship Flight 2010: Morning Glory

Soaring: Flying with no engine

Zaon MRX and XRX demo video at Sporty's

LD Final glide rieti 2010 - Watch the FLARM display

Shoreham Airshow 2010 Glider Crash

www.ASK14.org

iPhone logging app, OLC compliant

Ernst Udet - Wunder des Fliegens

News from Lange Aviation
Antares glider soaring Patagonian Lenticular

Photos of soaring in Argentina from Werner Lantschner, Photo 1, Photo 2, Photo 3

Electric Aircraft To Rule the Sky?

Gliding to the Edge of Space - Dennis Tito Steps Up to Fund, Fly Perlan Project

Jonker Sailplane News Story - I can't seem to find part 2 of the story any more.

Pipistrel Company Tour - What you can expect to see during a visit

Sonic Booms and Shock Waves - AvWeb
Vintage Sailplane Association YouTube page

From Jack Hallet, He had a hard time finding brake system parts from Grob, but found them at www.maxbmwmotorcycles.com, parts were from R65 BMW from 1978-84.

BonusJet Jet-Powered Glider Completes Test Flights

Spin myths - AOPA Online

Historic aviation photos available online - Direct Link

Bruno - B4, Region Contest in Tucson, AZ

PLB brings speedy rescue to glider pilot trapped in trees

Weird Clouds Look Even Better From Space

NASA's Image of the Day gallery

Carolina Cloudstreets - 10th annual Region 5 North Sailplane Race

Local Children Take Flight

Norman Goddard And His Glider (1929)

Li'l Dogie

George Popa Wire Sculptures - Nice wire gliders! (scroll down)

Riding in glider a unique experience

Diamond HK36 motorglider re-introduction video

Red Bull Blanik video

Sport Gliding in the 1920's

Youth travels out of state to solo on birthday

Landing in a turn (towplane)

Knut and Ingrid Kjenslie - gliding to their next phase in life

Tony Condon and firends - Covering a Cherokee II wing bottom surface

SSA Glider Data Plate exemption - permanent

WASP Receive Congressional Gold Medal

Bug's-eye View of Aerotow Takeoff

Flying in Red and Green Air

Surviving the Wires Environment - AOPA Live

Soaring Memories - 2008 - 2009 - Ron Murphy

BABAjAGA - Witches in Updraft!

NASA on the Science of Pilot Error - With glider pilot Key Dismukes

High-speed, low altitude sailplane passes in South Africa

Nice article on Val Paget's World record flight

Soaring Photos by Phiippe de Pechy on his web site
Soaring Photos by Phiippe de Pechy on picasaweb

Gleb Derujinsky - Local Renaissance man tells all
You may remember Gleb as one of the stars in "The Sun Ship Game" film.

2 Excellent soaring videos from Kees Van Schaick
http://www.youtube.com/watch?v=cwdFycGgh4g
http://www.youtube.com/watch?v=PcuSp7FqICw

Very nice paper glider models from Fiddlers Green

Way to go Ron Schwartz - nice flight on OLC , Way to go Ron Schwartz

Colditz glider details on Nova web site:
http://www.pbs.org/wgbh/nova/naziprison/glid_building.html http://www.pbs.org/wgbh/nova/naziprison/glider.html
http://en.wikipedia.org/wiki/Colditz_Cock
http://www.imdb.com/title/tt0066833/

Christian Mackin - HD video of valley run near Mt. Whitney with Martin Eiler in DuoDiscus

HyperTerminal is a handy terminal program that was included with previous versions of Windows. It is not included with Vista or Windows 7.
Buy it for $59.95 here: http://www.hilgraeve.com/hyperterminal.html
or try the free program Tera Term here: http://sourceforge.jp/projects/ttssh2/

Windward Performance featured in Machine Design

Formation flight, Nimbus 4DM & Hunter Mk68 Jet

Logan Utah ridge flying HD video

SeeYou Mobile Tutorial - How to enter a task

Raul Blacksten's website on US military training gliders

K1 Accident Report

Funny ring tone from movie "Bedtime Stories"

Captain Sully at the Airforce Academy
Tail Dolly construction photos by Wayne Paul

New Horton flying wing
Erik Houtman - glider aerobatics in Fox

Dutch Glider Aerobatic Team

Goat soars Torrey Pines

BUG (Basic Ultralight Glider) Soars at Torrey Pines

Running along the ridge of mt Palomar mountain

Jim Payne's record flight on March 29, 2009 - on OLC web site

Glider decals - http://www.segelflug-aufkleber.de/

diamond altitude flight video - Jerry Snedden

Growing Bolder video from Seniors Contest 2009 - Excellent

Google 3D Warehouse - Sailplanes and Towplanes
The links below are to 3D models that work great in Google Sketch-Up - a FREE 3D modeling
Schempp-Hirth Discus 2b
Antares 20E
DFS Habicht
Schleicher Rhönbussard
Discus 2b "2D" in front our hangar
Schleicher Ka8
Jantar Standard 2B
Piper PA-25 Pawnee

unpowered glider flight through storm clouds and over a mountain range to gather weather data

http://www.maxair2air.com - Photos - Soaring in Hawaii

Glider Aerobatics video

See How it Flies
Airfoils and Airflow
Irrotational Flow of an Viscus Fluid

Multiple Aerotow - 9 Blaniks - 1 Towplane

Big model
Nice Map and Airport web sites:
http://skyvector.com/
http://www.airnav.com - my favorite source for airport details

Coming Next Month
Notes and photos from the SSA Conference in Philadelphia, PA
PowerFLARM Status Update
More fun links and soaring news from around the world
Wrap Up
Thank you for taking the time to read this newsletter. I hope you have found it interesting. If you did, please tell your friends about it. Please mention it in your local soaring newsletter. Please direct them to:
http://www.cumulus-soaring.com/newsletters.htm

I consider myself a servant. Please let me know if there is anything I can do to help you find the right soaring instruments for your needs, or help you learn how to use an instrument or software product. Also, let me know if you have any suggestions for products or services to add to my web site, or ways that I can serve you better.

I feel blessed because I love my job. I enjoy serving the soaring community. Like you, I am passionate about soaring. Thank you for your business, I sincerely appreciate it.

Fly Safe,

Paul Remde