Tasman VRM10 Sprite Digital Audio Variometer

Overview
Tasman Instruments Variometers perform beyond expectations, leading their competitors in performance and value.
Note: I am out of stock of the VRM10 Sprite Varios. I don't currently plan to order more. It is a very nice vario, but perhaps hasn't sold well because of the non-color display.
Tasman VRM10 Sprite Vario
Overview Video, by Paul Remde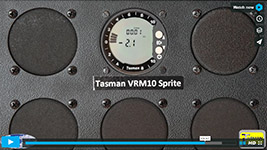 Tasman VRM10 Sprite Variometer is one of 80+ videos in the Soaring Product Training series.
Duration: 11 minutes, 27 seconds
You can rent this video for 30 days for $3, or buy it for $10, or rent the entire Soaring Product Training series for $60 for one year.
The VRM10 Sprite fulfills the needs of both sport and competition pilots alike. It enhances the information to the pilots own "feel" to maximize use of available sources of lift when flying around the field or cross country. The response is both rapid and controlled, it is true to the "feeling" of the air by the pilot, re-enforcing the pilots mental image of air being sampled by the aircraft. Technology employed in both hardware and software has many innovations developed by Tasman Instruments and includes features suggested by users of the Tasman Instruments V1000/2000 previous products.
VRM10 Sprite's key design element is a software module that is able to reject rather than filter inputs from the pressure sensor/TE probe. Because the filter is not" loaded up" working on inputs that are not relevant to the pilot, a faster response in the filtering can be used than otherwise would be possible.
The high resolution that is available from the digital converter results in the instrument being able to respond accurately. High resolution digital converters are slower in operation. To minimize this Sprite uses multiple simultaneous measurements which provide a rapid initial response. Most other pressure sensor Variometers have a small delay to respond, just a fraction of a second, but still a delay that is significant when in flight.
Key Features
Advanced Gust Rejection
Easy to use (simple user-interface)
Easy to install with built-in speaker (external SP100 speaker available as an extra cost option - not usually needed)
Easy to view (easy-to-read LCD display)
Reliable (no moving parts)
Inputs for landing gear and airbrake sensors
Built-in voice warnings: landing gear, low-voltage
20 second average and "time since power-up" timer on main display
Select from 2 different audio tone styles
Sink tone - only when below selected threshold for a period of time
Low power consumption (50 to 200 mA)
Operates on as little as 6 V
Optional PK312 Back-up Battery with 12 hours of operation from a new 9V battery, with automatic switching from main to backup power and automatic power-off
Optional FP10-s5V Flight Pack Air Data Sensor box with pitot and static inputs for airspeed sensing, will eventually display speed-to-fly indicators on the VRM10 vario display (future feature).
Simple user operation suitable for club or demanding cross country performance with a "lead the gaggle" optimal response, even have the confidence to leave the gaggle, find your own climbs.
Greater lookout safety as clear audio minimizes the pilot "head in the cockpit" or needle watching with only a quick scan to monitor average climb result required
Personalized settings are available to adjust many features of operation using a simple menu.
Compact size with all required materials supplied for Vario installation. Internal loudspeaker with magnetic shielding, simple connections all make installation easy.
Design Considerations
The most difficult task faced by the Tasman Instruments research and development team was to extend the performance of our previous V1000/V2000 Variometer products. We devoted many hours of intensive laboratory testing and in-flight evaluation, including comparison of competitor products, incorporation of suggestions and feedback collected over many years from our valued customers, all of which have been integrated into the design of our new Variometer range.
Low Power consumption Minimal power consumption with VRM10 Variometers using reflective, non backlit displays and high efficiency audio. Backlights have high power demands that reduce valuable battery life that is better conserved for communications and navigational functions.
Gust Interference rejection provided a strong focus in the development of the VRM10 Variometer. The VRM10 has at its core, fast response with rejection of spurious pressure signals, i.e.. rejected not filtered, leaving for processing pure high resolution barometric data that we glider pilots need.
Improved performance utilizing an interlaced sampling technique, resulting in a sharp attack time, no waiting for a response from the instrument, with the feel in the seat matching the audio from the instrument, where even a quarter of a second is too long causing confusion with extra workload for the pilot.
In summary, our VRM10 glider variometers overcome the common shortfalls of pressure sensor Variometers. Combined with rejection of spurious signals and faster filter response times, real time response performance has been realized, meaning more accurate data for the pilot.
Altitude compensated >>50,000 ft.
Bright clear display with simulated pointer or bar graph, numeric average value and elapsed time clock.
Gear warning input with spoken word message for peace of mind in busy traffic.
3 year warranty. (conditions apply)
Features & Benefits
Features:
Benefits:
Simple installation
Two buttons-power and volume
Internal speaker
Display features
Centre screen average display numbers (default setting)
Time of flight clock display
Trend arrows for "decision to leave" assistance
LCD pointer display
Fast controlled response
Minimal initial delay
Gust signals "rejected" not filtered
Minimal stick response
LCD pointer display
High resolution, 0.1 knot
Stay airborne in light conditions
Responds to small changes for better lift optimization
Centre screen average display in numbers
LCD pointer display
Pleasant audio sound
Minimal "head in cockpit" time
Low fatigue
Sink tone start time delay
LCD pointer display
Spoken word warnings

Clear voice "Low Battery" warning
Clear voice "Undercarriage Warning" if connected to switches

Compact size MIL standard housing
Efficient use of panel real estate
Conforms to 2.25 inch standard
Minimal power consumption
Reflective display-No display backlight required
High efficiency audio
Self turn off if not flying
Future proof
New speed to fly segments for future add-ons
3 year warranty
Purchase with confidence
Audio

The VRM10 has front ports to allow sound produced from its internal speaker to exit directly from the panel. An external speaker can be simply connected automatically disconnecting the internal speaker for minimal power use.

Climb tone can be selected as "Tasman" or "classic" - interrupted sliding tone which changes in pitch and interval.

Sink tone has a timer so that the sink value has to be Continuously below the selected threshold for sink tone to be produced. Sink tone threshold can be either -2.5 or -4.0 knots (-1.25 or -2 m/sec).

Audio response is arranged to give the greatest resolution at the lower climb rates. At climb rates below about 2.5 knots, a change of 0.1 knot can readily be detected in the audio tone. This gives the maximum amount of Variometer information to the pilot at times when a Variometer is most important i.e when trying to recover in weak lift, or to extend a flight on winter days or during wave flights.

Safety
Concise audio is essential to maximize the lookout time for the pilot. Concise audio information maximizes the pilots achieved climb rate without the need for visual reference to the Variometer for confirmation of the current climb rate.

External speaker is easily connected.

Specifications

Variometer
Resolution: 0.1Kts.
Maximum reading: +/-19.9Kts
Drift: Negligible
Accuracy: +/- 0.5 Kts Full scale
Noise: +/- 0.1Kts max 1.0 second response time
Electrical
Operating voltage: 6 to16 volts DC. 12V nominal.
Operating current: 50mA @12V and minimum volume setting, Max 200mA (Internally fused)
Temperature
Operating Range: -30 to 60 degrees celcius (non condensing)
Mechanical
Dimensions: 61.3 x 61.3 x 69mm (2.41 x 2.41 x 2.72 inches) W-H-Depth to tip of tube barb
Mass: 175gm (6.2 ounces)
Versions
VRM10-k, Units: Knots, Range: +/-10, in stock
VRM10-m, Units: m/s, Range: +/-5, in stock
Two Seat Glider Installations
Tasman offers a repeater for use in 2 seat gliders. However, they don't cost much less than a standard vario and they have less resale value. They can only be sold to owners of 2 seat gliders. I recommend buying 2 VRM10 varios for 2 seat gliders. That way each pilot can adjust the vario to suit their needs and resale value is as high as possible.