New Items
Click on the images below for details
NK ClearNav

LX8000
Self-Launch
Retractable Engine Sailplanes
Book on DVD
Book
Subscribe to Newsletter

Hot Items
Click on the images below to see details
Dear Paul,
It has been very cold here in Minnesota lately. I am really looking forward to spring! The good news is that we'll be getting the gliders out for spring in only 2 months.
I have been busy adding a lot of new products and free features to my web site lately.
I'm really looking forward to the SSA Convention in a few weeks. There are many interesting new products and technologies that will be fun to show off. Although going to the convention is a lot of work, I really enjoy getting to see my soaring friends and getting a chance to meet many of my customers. It is fun to put faces with names and even get a chance to hang out and have a beer or glass of wine together.
Let me know if you have any suggestions for ways I can make this newsletter better, or if you have information to include in future versions.
SSA Convention
Join the Fun
I'm really looking forward to going to the SSA Convention in Albuquerque in 2008. The convention floor is open from Thursday, February 14th through Saturday, February 16th. There won't be an SSA convention in 2009 - so be sure not to miss the one in 2008. It is a great time to catch-up with friends in the soaring community, learn about interesting new products and sailplanes, listen to interesting speakers on a wide variety of soaring topics, and much more.
Convention Specials
I have been working with my vendors to offer special discounts at the SSA Convention on several products. I have a limited supply of the Becker and Zaon items. You can reserve them in advance.
Training Sessions

Several soaring product vendors will be offering free product support and training on Wednesday, February 13th - the day before the start of the convention. The SSA has graciously made several rooms available in the convention center and representatives from SeeYou, StrePla, LX, NK and others will be taking advantage of them. You can see the latest schedule here:
12 to 12:50 PM - NK ClearNav Overview - Chip Garner
1: to 1:50 PM - LX Navigation LX8000, Colibri, etc.
I had planned to offer one-on-one customer support in the Navajo room from 2 to 3:30 PM, but I'm pretty sure that is not going to work out. I had hoped to get my booth setup in the morning, but now the move-in schedule may not allow that. I'll do as much setup as possible in the late morning but I'm sure there will be more to do in the mid-afternoon. I'm sorry about that. I was looking forward to it. I will be at the training sessions from Noon to 2 PM, and at the FLARM / ADS-B meeting at 4 PM (details below).
Help Needed
I am looking for volunteers to help me at the SSA Convention. I have created a volunteer schedule. It is available at the link below and will also be available in my booth. Please let me know if you can help in any of the time slots. I need help setting up the booth on Wednesday, help in the booth during the show on Thursday through Saturday, and help tearing down the booth on Saturday. The specific times are on the schedule. Several people have said they could help on Wednesday. If you are one of them, please confirm that the times shown will work OK for you.
FLARM / ADS-B In the USA - A Meeting of Minds
I hope you will consider joining us for what is shaping up to be an extremely interesting, thought provoking meeting that may well help move forward the development of some exciting new traffic awareness products in the near future. Products not only for glider pilots, but for use in all aircraft.
The meeting is entitled:
"FLARM / ADS-B in the USA - A Meeting of Minds".
It will be held from 4 to 5:30 PM on Wednesday, February 13th in the Picuris, Sandia, and Santa Ana rooms in the lower level of the Albuquerque Convention Center. A floor plan of the Convention Center is available in the link below.

http://www.albuquerquecc.com/PDF/ACC-Floorplan-3.pdf
Note that the meeting takes place before the start of the SSA Convention which runs from Thursday through Saturday.
I am extremely excited about the meeting. When I first proposed it my goal was to try to find a way to get US pilots to embrace either FLARM or something similar. The main objective of the meeting is to enhance safety for all pilots. What I really want (my personal goals may not be the same as everyone else at the meeting) is for all gliders and power planes to carry a black box that allows everyone to be alerted to nearby traffic that is a threat. The black box needs to be inexpensive enough so that everyone will be willing to buy it and install it in their airplane. I have learned a lot since then and it sounds like some new technology and products will make this all possible in much less time than I originally hoped.
The current goal for the meeting is to bring together some great high-tech minds and discuss products already working or in the works or ideas for future products. But I believe that it will be a meeting at which we can all see not just the products and technologies, but also the "big picture".
Thanks to the hard work done mainly by Minnesota glider pilot Mike Schumann we have an extremely impressive list of people presenting at the meeting. The proposed agenda is below:
4PM - Paul Remde - Agenda - Introduction of Guests

4:05 - Bernald Smith (SSA Rep) - Overview of ADS-B and the NPRM

4:20 - Robert Strain (MITRE) - Technical Overview of ADS-B and Low Cost Transceiver Project

4:45 - Urs Rothacher (FLARM) - Overview of FLARM and FLARM's ADS-B strategy

4:55 - Andrej Kolar - Demo of "FLARM Radar" in SeeYou Mobile

5:00 - Bill Hall (Sandia Aerospace) - Overview of Sandia's Product Line and Interest in ADS-B

5:10 - Jason Clemens (ZAON) - Overview of ZAON's PCAS product line and ADS-B plans

5:20 - Questions & Panel Discussion
There will also be an very intelligent and knowledgeable collection of technology minded glider pilots attending the meeting.

If you are interested in safety enhancing products then I'm sure you will find the meeting interesting - and we hope you will come ready to share your ideas and opinions.

This meeting is absolutely not about selling products, it is about strategizing about future products and technologies. It is also designed to be an opportunity for great minds in this field to meet and get to know one another.

I hope you will join us. Were are trying to get an indication of the number of people that are planning to attend. Please send me an e-mail if you are planning to attend.
Cambridge Cradle for Compaq Aero 1550
Last One
I have only one CAA-128 cradle for Compaq Aero 1500 series Pocket PCs remaining in stock. They are no longer available from Cambridge. It has been an extremely popular cradle over the years. I still have all the required mounting hardware, data cables and RJ adapters in stock. I'm sure it will sell quickly.
Details
SeeYou Mobile 3.0
Available Now
A new version of SeeYou Mobile is now available. It is version 3.0. It includes many cool new features.
Major Upgrades: (reverse order of implementation)
Version 3.0
FLARM Radar
Goto FLARM
Pan and rotate map freely
10x faster map display
Support for Aircotec XC Trainer
Support for multiple Waypoint files
Support for many Waypoint file formats
Magnetic declination Navboxes (Radial, MagBrg, MagTrk)
Waypoint filter dialog
Minor Upgrades: (reverse order of implementation)
Version 3.0
FLARM friendly name stored for later use
Waypoint filter dialog
New File Open dialogs (automatic search for files)
Supported proprietary Tasman NMEA sentences
Display Options dialog now multi-page
Support for software ports (GPD)
Start altitude and speed are reported at start time
New actions for hardware keys: 'no action' and 'default action'
Changed target zoom algorithm to prevent zooming in too close or too far
Minor fixes to communication DLLs
Numerous fixes
If you purchased SeeYou Mobile or a SeeYou Mobile Annual License more than a year ago, you will need to purchase a SeeYou Mobile Annual License to be able to use version 3.0. You can purchase the upgrade
here
.
Panoramic View of Airbus A380 Cockpit
This bit of interesting aviation imagery has spread across the aviation Internet like wildfire. It is a panoramic view of the cockpit of the new, huge Airbus A380. It looks a tad bit complex...
A380 Cockpit View
NK ClearNav Update
First Drive
I received my first NK ClearNav beta unit last week. I have had a lot of fun playing with it. The bright screen is awesome - but so is the ClearNavigator software!
Area Task Support
When I first started playing with my ClearNav demo I was extremely impressed with the brilliant new way the ClearNav handles area tasks. Competitive software requires that you move the turn point within the turn area. That can be cumbersome and even dangerous to do in flight. The ClearNav is much simpler and more intuitive. There is no need to move or manipulate the turn location in any way. A blue arc is show inside the turn area. It is a locus of points within the turn area that lie along an ellipse such that making your turn at any point on the line will give you the same distance around the course. The software places the blue arc automatically based on your estimated speed around the course and the task time. Task course lines are drawn in fine black lines from the start point, to a point on the blue line and then on to the center of the next turn area. If you are flying fast then blue arc moves to a point on the far edge of the turn area. If you are flying slowly the blue arc moves to a point on the near side of the turn area. When the blue arc reaches the far or near side of the area then the turnpoint in the next turn area moves away from the center of that area to compensate. For example, if you are flying slowly then the blue arc will move to the near side of the turn area you are headed for and the turn point in the following turn area will move closer to the near edge of that area. I think this way of handling turn areas is revolutionary and brilliant! Congratulations Chip Garner on this innovation! It is brilliant because you never need to move the turn point manually, you just glance at the screen and fly to a point on the blue arc. That makes flying safer because you will keep your eyes out of the cockpit and it also makes you faster because you can focus your efforts on flying fast - not fiddling with the software.
Glide Amoebas

The glide amoebas show your gliding range graphically on the map. They take into account the wind, glider polar, altitude and surrounding terrain. Over flat terrain they look like circular rings. Over mountainous terrain they look like, well... amoebas. A ridge shows up as a flat "impassable" line while long extended "fingers" show where it is possible to glide through mountain passes or down into valleys. In flat land soaring the footprint will be much more circular or ellipse shaped. This is a very powerful feature. Past generations of soaring software highlighted reachable airports on the map - which is also nice, but in ClearNavigator you can see at a glance not just what airports are reachable (any airport inside the glide amoeba) but you also know how far you can glide over the ground - or down into a valley. To me the most powerful feature of any soaring software is the ability to glance at the screen and know instantly whether or not you can make it to a nearby landing site. The Glide Amoebas makes that very clear and intuitive and easy to use in flight - Fantastic!

Beta Testers Wanted
I will receive 10 beta units soon to sell at a discounted price to customers that are willing to help with testing and debugging the software and hardware. Software upgrades will be easy to do using the USB memory stick. The system will be upgraded over time to the final configuration. I don't know whether or not it will be necessary to send the hardware back to the factory for upgrades. I don't think that will be necessary, but I can't be certain. Please let me know if you are interested in buying a beta unit. I have started a waiting list.
Glide Navigator II Update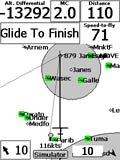 Password Tied to Pilot Name

Glide Navigator version 3.0 offers a new password scheme that is tied to the pilot name rather than the GPS or PDA. That means that you will not need to purchase a new password in the future when you upgrade your PDA or GPS. There are no other new features at this time.
GlidePlan
Now Available from Cumulus Soaring, Inc.
GlidePlan is software for PC or Mac that displays U.S. Sectional Aeronautical Charts and can be used to plan cross-country soaring flights and print maps with distance and glide range rings. It is popular with:
Contest pilots that want to print customized maps
Cross-country soaring pilots that don't own an expensive flight computer and want to print maps with glide range rings - or do own a flight computer and want printed maps as a backup.
Gadringer-Gurte GmbH - Seat Belt Systems
Now Available from Cumulus Soaring, Inc.
Gadringer-Gurte GmbH is well known around the world for their high-quality seat belt systems.
Soaring Instrument Overview Videos
Free
If a picture is worth a thousand words, then a video with sound must be worth a million. I have just started creating free online product overview videos. I plan to create them for all the soaring instruments I sell. So far I have created videos of the Cambridge 300 series and Tasman V1000 variometer. They allow you to see and hear all the functions of the units. It is a great way to see if it is the right vario for your glider. Or, if you already own one, it is a good refresher course on how to use it.
Training Videos - Now FREE (low resolution)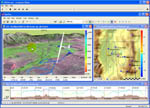 SeeYou Training

I have made full length, low resolution (320 x 240 pixels) versions of all the SeeYou Training videos available online - free of charge. If you find them useful and would like to support my efforts (creating them was a lot of work), and you would prefer to view them at full resolution (1014 x 636 pixels), please order the training CDs.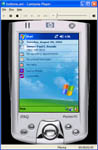 Pocket PC Training

I have made full length, low resolution (320 x 240 pixels) versions of all the Pocket PC Training videos available online - free of charge. If you find them useful and would like to support my efforts (creating them was a lot of work), and you would prefer to view them at full resolution (800 x 600 and 332 x 504 pixels), please order the training CD.

Contest Launch Time-Lapse Video
I used "interval recording" on my camcorder to speed up the process of bringing gliders out to the runway, moving them out onto the grid and then launching. The segment was recorded at the
2007 Albert Lea Soaring Contest
. At first I wasn't happy with the stop and go nature of interval recording, but I do like that it allows the capture of audio sound during the short recording segments.
Articles Needed
I am looking for someone to write a short article for the next edition of this newsletter on the highlights of the SSA Convention. Since I'll be busy working at the convention, it would be great to get input from someone else. Let me know if you are interested.
I am also always looking for interesting articles for this newsletter.
Cambridge Aero Instruments Update
Long Lead-times
The Cambridge Aero Instruments 302, 302A, 303 and 306 are extremely popular soaring instruments used in sailplanes around the world. However, they seem to have very long lead-times recently. I have a few 302, 302A, 303, and 306 units in stock, but if you are planning to install one this spring I highly recommend that you order them very soon. After my inventory is depleted I'm told it will take several months to get more units. The units will be available and supported well in the long term.
New International Soaring Magazine
Gliding International
I had been a happy subscriber to Gliding Kiwi magazine from John Roake in New Zealand for quite a while. My favorite part of the magazine was the international news section in the very back of the magazine. It always included tidbits of information from around the world that I had not heard anywhere else. Then, back in December I received my first copy of Gliding International. It is a new publication from John Roake. John is no longer publishing a magazine for the national New Zealand gliding organization Gliding New Zealand.
The great news is that the new magazine is fantastic. It is a great collection of soaring news from around the world combined with great articles and photos. John has connections with glider manufacturers and soaring legends around the world. I particularly like the sailplane reviews and photos from Jochen Ewald.
You can subscribe online and have the magazine mailed to you anywhere in the world. The price is $52 US for 1 year or $100 for 2 years. It is currently published every other month but will probably go to every month in the near future. I will be selling subscriptions at the SSA Convention.
DG-300/17 Flutter Testing
Don't Try This at Home
This is a very interesting short video showing flutter on a DG-300/17. As stated on the web site, the glider was intentionally overballasted for the tests. I applaud DG for putting interesting data like this on their fantastic web site.
Coming Next Month
SSA Convention Highlights
Update on the JS-1 Revelation 18 m sailplane from South Africa
Why the new EW microRecorder is so popular
Favorite soaring magazines from around the world
Thank you for taking the time to read this newsletter. I hope you have found it interesting. If you did, please forward it to your soaring friends using the link at the bottom of the page.

I consider myself a servant. Please let me know if there is anything I can do to help you find the right soaring instruments for your needs, or help you learn how to use an instrument or software product. Also, let me know if you have any suggestions for products or services to add to my web site, or ways that I can serve you better.

I feel blessed because I love my job. I enjoy serving the soaring community. Like you, I am passionate about soaring. Thank you for your business, I sincerely appreciate it.

Sincerely,


Paul Remde
Cumulus Soaring, Inc.