Subscribe to Newsletter

New Items
Click on the images below to see details
Hot Items
Click on the images below to see details
Dear Paul,
I hope you will enjoy this newsletter. My goal is to provide:
Timely information on new soaring products and services
Updates on new software version releases
Special offers for newsletter subscribers (see the coupons below)
Soaring news from around the world
Interesting articles
Tips to help you get the most from your soaring instruments and software
The plan is to send the newsletter on a monthly basis.
I use a very reputable e-mail marketing service called Constant Contact for managing this mailing list, so your contact data will be safe, and you can opt out at any time.
Vacation
Out of the Office
I will be out of the office from Thursday, October 11th through Sunday, October 21st. I will be back in the office on Monday, October 22nd. I will do my best to check e-mails while on vacation, but I will not have time to reply to every e-mail. I will catch up on orders and e-mails as soon as possible upon my return. I am really looking forward to spending quality time with my family at Disney World and on the beaches near Naples, Florida!!!
CAP Calls off Search For Steve Fossett
Sadly, glider pilot and world record holder Steve Fossett has not been located after several weeks of intense searching. Click on the link below to read more about it on the EAA web site. The site also includes a link to an interview (audio only) from July, 2007 regarding the Perlan glider project and their new world altitude record. The interview is very interesting. I have followed Steve's exploits for many years and enjoyed reading his autobiography. I will miss him.
EAA Update on Steve Fossett
New Book
Advanced Soaring Made Easy
by Bernard Eckey
Gliding is a fascinating sport and without a doubt the most peaceful, most affordable and by far the quietest form of aviation. To soar effortlessly like an eagle has been one of man's age-old yearnings and many thousands of pilots around the world today regularly experiences exactly this and enjoy the beauty, challenges and delights of this unique sport.
Gliding means flying modern machines of great beauty and elegance for hundreds of kilometers (miles) in total comfort and without resorting to engines. Success depends on the skill of extracting the necessary energy from the atmosphere around them. Real determination to succeed is a good starting point but good progress and full enjoyment requires some study as well. A basic theoretical knowledge is essential for success and that's what this book is all about. It not only covers all sources of energy for soaring, but it also deals with weather analysis, flight preparation, mental aspects, safety matters and competitive flying. In short, it is a first class training aid to guide pilots from local soaring to advanced cross-country flying and beyond.
More:
Advanced Soaring Made Easy
Software Versions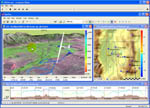 Are you using the latest software?
It can be difficult to keep up to date with software. Check the list below to make sure you are using the latest versions. Click on the product name to go to the download page.
Many of the product upgrades are free - depending on the version you are currently using. For example, all Glide Navigator II upgrades have been free so far, and upgrades for SeeYou are free for users with license keys for versions 3.0 or greater. Contact me if you need help determining whether you are entitled to a free upgrade, or if you would like to buy an upgrade.
Big Wings
Hot New Open Class Ships
Check out the
EB28
from Binder Flugmotoren- und Flugzeugbau and the new Schleicher
ASH-30
. They look like fun to me!
FAI Sporting Code Update
Effective October 1, 2007
The new version of the sporting code is now available and in effect. The biggest change is that you can now get credit for all records achieved on a flight. For a while the rules specified that you could only claim one distance record and one speed record in a given class and category for a given flight. For example, if your flight met the requirements for both free distance and distance to a goal, you could only claim one or the other record - not both. I'm glad they changed this rule back to the way it was previously. There are other changes as well.
New Book
Aviator's Devotional
Those of us who have followed our dream to fly have joined a special fraternity of aviators. Pilots and other airmen have a passion for adventure and a perspective on life that others can't fully understand.

Our romance with the skies is a microcosm of life itself and helps us celebrate the joys and cope with the challenges of each day. We can appreciate the creation and honor the Creator from a viewpoint not available to others.

This devotional book gives you 31 short, but meaningful, readings (one for each day of the month) that provide rich moments of meditation on the greater things of life from the distinctive view of the aviator. It will:
Entertain you with unique insights into the adventurous world of aviation.
Enlighten you with flying facts and trivia that you didn't know or had forgotten.
Encourage you with Bible-based inspirational perception regarding God's nature relative to our needs.
More: Aviator's Devotional
Training
Let me Help You Get the Most from Your Soaring Instrument or Software

I offer training over the phone on many soaring software and instrument topics for $40/hour. What we cover is up to you. It includes free web conferencing features which allow me to view your PC screen on my PC. This has been very popular and the feedback from customers has been extremely positive. I often walk customers through the process of setting up Glide Navigator II or SeeYou Mobile or pocket*StrePla on their PDA. I also help customers download or create waypoint and airspace files for their region.

Customer Feedback
"Thank you, Paul, for your marvelous support. Not only is your website a fabulous source of information for glider pilots, but you've been unfailingly responsive to my hardware and software needs. Last but not least, I've gotten much more out of my equipment as a result of our remote-tutoring sessions by cell phone and computer hook-up. Thanks again!"

Mitch Polinsky
DG-400 "SUN"
More: Training Over the Phone
Safety
PDA Mounting Tips
I sell a lot of PDA cradles to glider pilots - so I've talked to many customers about mounting options. The most important consideration is keeping the installation safe. Below are some overview points on the subject. They may sound obvious, but I have heard of installations that were problematic due to missing these points.
Mounting Location Tips
Keep Clear of the Control Stick and All Other Controls
Keep in mind that gooseneck mounting arms are friction devices that become less stiff over time. You do not want the gooseneck and PDA to sag and interfere with the control stick or any other controls. I include steel stiffening rods with all the long goosenecks I sell. I don't think they are necessary in most installations, but they are nice when needed.
Do Not Mount the PDA Cradle to the Canopy Rail
Often it is difficult to find a good location for the PDA, cradle and power/data cable. The most popular locations are on the instrument panel and on the cockpit sidewall. I offer good mounting options for either location. However, some customers have mounted the cradle on the canopy rail. If the cradle has a cable connecting it to the GPS then I do not recommend that location. In an emergency you would not want to eject the canopy only to have it stay connected to the glider - dangling by the PDA's power/data cable. It is debatable whether or not this would be a real problem - but I would rather be safe than sorry.
Food for Thought - My best guess is that 90% of the PDA and GPS cradles I sell are mounted to the instrument panel using a 3" or 6" gooseneck. It is a very elegant and reliable solution. The Nimbus cradle is by far the most popular PDA cradle I sell.
Related Links
Mounting Arm Selection Guide
PDA Cradle Selection Guide
PDA Cradle Comparison
Mounting Arm Accessories by Cumulus Soaring, Inc.
Nimbus Cradles
RAM Mounting Arms and Cradles
SSA Convention
Join the Fun
I'm already looking forward to going to the SSA Convention in Albuquerque in 2008. The convention floor is open from Thursday, February 14th through Saturday, February 16th. In 2009 there won't be a full sized convention - so be sure not to miss this one. It is a great time to catch-up with friends in the soaring community, learn about interesting new products and sailplanes, listen to interesting speakers on a wide variety of soaring topics, and much more.
Training Sessions
None of the details are worked out yet, but I do plan to offer group and/or one-on-one training and support on Wednesday, February 13th - the day before the start of the convention. Let me know if you would like to schedule one-on-one training or if you would like to recommend a topic for a large group training session.
Help Needed
I am looking for volunteers to help me at the SSA Convention. I need soaring pilots for the tasks listed below.
2 or 3 soaring pilots to drive to and from the convention with me in either my minivan or perhaps a mobile home. The trip is much more enjoyable when when chatting with other glider pilots.
4 to 5 people to help with setting up and tearing down my tradeshow booth. Setup will be on Wednesday, February 13th and teardown is after the convention hall closes on Saturday, February 16th. Setup takes a few hours and teardown usually takes about 1 hour.
Multiple people to work in the tradeshow booth with me during the convention. You can sign-up for 2 hour time slots before or at the event. The work consists of processing orders and pulling together the desired items from inventory. It is a great way to meet glider pilots from around the world and often you get to meet soaring legends.
I will be offering significant incentives to make it worth your while - such as store credits ($100+), free lodging and free meals. The size of the incentive will be proportionate to the amount of time donated. Please contact me for details.
Kids and Airport Safety
A Day at the Airport
I love bringing my kids to the gliderport! It is fun to see their excitement for the airplanes and their desire to go soaring with me. My 10 year old son Adam is learning to thermal, my 7 year old daughter Elle loves executing a short series of small up, down, up, down, up, down "roller coaster" bumps. My 5 year old daughter Sara enjoyed her first glider ride this summer. I just love being a Dad!!!
However, I have just recently realized that it is not a good idea to bring the kids to the gliderport on days when I am scheduled to be the club's Field Operations Officer (F.O.O. - there has got to be a better name for that role...). In the Minnesota Soaring Club the F.O.O. is in charge of running the flight line for the day. It is an important job and when done well it increases the safety level dramatically. Some F.O.O.s are good, some are great, and some are just OK. I've always felt that I have done a pretty good job as F.O.O. in the past. In recent years I started bringing one or more kids with me on day when I am the F.O.O. My thinking was that I could encourage my kids' interest in aviation while doing the F.O.O. duties. In past years I don't think this was a big problem - but I could be wrong. When I would bring only one child I could keep an eye on him/her while running the flight line pretty well - but not as well as I would have if they were not there. But a few weeks ago I found that I could not keep a good focus on my F.O.O. duties while chasing the three kids. There were no safety issues caused by my being distracted, but there could have been. I was not able to watch the traffic pattern and keep an active eye on safety as I should have. Fortunately, other club members at the flight line helped out a lot that day in many ways. As I left the airport that day I realized that it did not make sense to have the kids there while being the F.O.O. I just didn't do as good a job at F.O.O. as I would have liked. And I wasn't able to give the kids as much of my attention as they deserved. They were bored, and I was distracted. A few days later a soaring club member called me and (in a very friendly way) suggested that perhaps the kids were a larger distraction than I realized. So... I will never again bring the kids to the gliderport when I am the F.O.O.
I will definitely bring my kids to the gliderport to go soaring! ... just not on days that I am the F.O.O.
Paul Remde
Photos From the Albert Lea Soaring Contest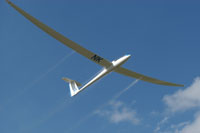 Long Lens, Fast Camera, Beautiful Gliders, and Lovely Weather
Those ingredients all came together for me at the Albert Lea Soaring Contest in May/June 2007. I took hundreds of photos and some of them turned out quite good. You can see them here:
Albert Lea Soaring Contest Photos
New HP iPAQ Pocket PCs Coming Soon
The iPAQ 100 series units will probably not be of interest to soaring pilots because it does not have an RS-232 serial port or BlueTooth radio or CF GPS card slot - so it can't be used with an external GPS. It may be OK for soaring when used with an SDIO GPS but I have not tested that solution. It utilizes the small 3.5" iPAQ screen size.
iPAQ 200 series
The iPAQ 200 series may be very interesting to soaring pilots because it uses the same large 4", high-resolution (480x640 pixel), bright (relatively) screen found on the previously available iPAQ hx4700 series that is popular with glider pilots.
However, the 24-pin connector is different from the connectors used on all previous iPAQs - so existing soaring data cables will not work with it.

It is not clear whether or not RS-232 serial communications are supported. The rumor so far is that it is not supported. That means that it cannot connect to soaring GPS units through an RS-232 serial data cable. However, Larry Goddard and I are working on a BlueTooth connection option. More on that soon... My cradle vendor says that a cradle will be available a few weeks after the units are available.
Coming Next Month...
Update on the NK ClearNav Display
Update on the JS-1 Revelation 18 m sailplane from South Africa
Tip - How to clear the flight log memory in your Cambridge 302 - and why you should do it every year.
Why the new EW microRecorder is so popular
Favorite soaring magazines from around the world
Thank you for taking the time to read this newsletter. I hope you have found it interesting. If you did, please forward it to your soaring friends using the link at the bottom of the page.

I consider myself a servant. Please let me know if there is anything I can do to help you find the right soaring instruments for your needs, or help you learn how to use an instrument or software product. Also, let me know if you have any suggestions for products or services to add to my web site, or ways that I can serve you better.

I feel blessed because I love my job. I enjoy serving the soaring community. Like you, I am passionate about soaring. Thank you for your business, I sincerely appreciate it.

Sincerely,


Paul Remde
Cumulus Soaring, Inc.