Home > Oxygen > Mountain High > EDS O2D1


Mountain High Equipment & Supply Company
EDS O2D1-2G - Single-Place Electronic Pulse Delivery Systems
Overview | EDS O2D1 | EDS O2D2 | Constant Flow | Cannulas & Face Masks | Cylinders | Regulators | CO-PILO2T | Transfillers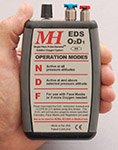 On this page:
---
Mountain High EDS Pulse-Demand Oxygen System Safety Features
Overview Video, by Paul Remde


Mountain High EDS Pulse-Demand Oxygen System Safety Features
Duration: 7 minutes, 13 seconds
One of 80+ videos in the Soaring Product Training series
You can rent this video for 30 days for $3, or buy it for $10, or rent the entire Soaring Product Training series for $60 for one year.
Introducing the EDS Pulse-Demand Oxygen System
Operating Modes
Video: Setting up the EDS O2D1 (v4)
Other Mountain High Videos
http://www.mhoxygen.com/index.php/videos
and
https://www.youtube.com/user/MtHighOxygen/videos
---
News
October 1, 2015
New EDS O2D1-2G System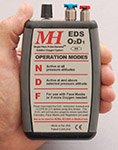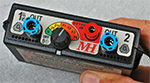 Mountain High Oxygen is pleased to announce the release of our next generation of EDS (Electronic Delivery System) Pulse Demand oxygen controllers, the O2D1-2G and O2D2-2G.
These changes are common to both the O2D1 and O2D2 family of EDS.
Our new Pulse Demand systems still incorporate all of the benefits of our legacy controllers but with many improvements.
We started with the control switch: The EDS unit now incorporates a MIL spec ruggedized easy-to- grip rotary control switch providing improved reliability, increased ease of function and visibility. This switch also has very positive position detents for excellent tactile feedback making it resistant to changes from causal rubbing or bumping.
While we were at it, we improved the manifold design to allow for better breathing response and effort tracking. This combined with a new circuit board, as well as a new micro-controller, gives improved power-conserving operations with even less RFI emissions, better respire-metric tracking and dispensing of oxygen in finer resolution resulting in smoother steps from altitude and breathing changes.
Other improvements include a dedicated bi-color system battery status light allowing much easier monitoring and definitive indication of battery condition without being confused as a station operation. The original O2Dx units encoded the low battery notification into the station lights. This status light also responds to each control switch change with a beep and green flash to confirm your actions. Also the audio alerts and warnings are louder, more crisp and dynamic to human hearing in an effort of being heard over modest cabin noise. The O2D2 has a 600 Ohm stereo external audio jack as well as a USB compatible (5VDC) external power port.
More intuitive F-Mode settings labeled as 1, 2, 3 & 4 for use with face masks or when more oxygen is required.
Abandoned Unit Auto Shut-Off
If you should forget to turn your EDS off after use, it will now go into auto shut-down (drawing very little power) after 3 hours of detecting no use in an attempt to save the batteries for another flight.
October 1, 2006
New EDS O2D1 System
The new EDS O2D1 oxygen system replaces the EDS-D1 system as the standard system used for single-place pulse-demand oxygen applications. The EDS O2D1 is based on the same technology used in the EDS-D1a but uses 2 AA batteries for much greater battery life. The new EDS O2D1 is smaller in size than the EDS-D1. The EDS O2D2 remains the standard system used in multiple-place applications.
What's Different?
The new EDS O2D1 uses 2 AA batteries for a much longer battery life of 100+ hours
The EDS D1a uses a single 9 V battery for a battery life of 40+ hours
The price of the new EDS O2D1 is $50 higher than the EDS-D1a sold for.
Is My EDS-D1 Obsolete?
The EDS-D1 is no longer in production, however, it will be supported for many years. It is a proven system that is in use in aircraft around the world. If you own an EDS-D1 system you do not need to upgrade to an EDS O2D1 - unless you want the longer battery life or slightly smaller size offered by the O2D1. All part numbers and model numbers that formerly included the EDS-D1a now include the new EDS O2D1.
Is the O2D1 a Drop-In Replacement for an EDS-D1?
Yes, the oxygen input and output connectors are identical.
The EDS-D1 accepted external power input. Because the EDS-O2D1 has a very long battery life, it does not have an external power or audio jack.
---
Documents
Mountain High Documents Page - Manuals, specifications, articles, etc.
System Kits
The price list below includes many EDS O2D1 system kits. The kits are commonly purchased combinations of components. The kits are discounted so you save money when buying a kit when compared with buying the components individually.
---
How to Order
To order a product, click on the

button next to the product.
When you are ready to complete your order, click on the

button.
Click on the small images to view larger versions.
Lead-time
I try to stock as many parts as possible so I can ship to you immediately upon the receipt of your order. However, MH offers an extremely broad range of products and kits so it is not possible for me to stock everything. However, it is possible for MH to ship parts I don't have in stock directly to you very quickly. That is good for you because you receive the products quickly. It is good for me because it reduces the amount of inventory I need to stock and also eliminates the cost of shipping the products to me. The items marked "In Stock" below are almost always in my stock here in Minnesota, USA. The items marked "1 Day" (or similar) can be shipped directly from the vendor in Oregon, USA to you.
Part #
Model #
Description
Photo
(Click on images below to view large versions)

Price

Lead-time
EDS O2D1 Unit Kit
00EDS-1200-00
EDS O2D1-2G Kit

EDS O2D1-2G Kit
The new and more compact EDS-O2D1-2G is the lightest, smallest and most capable on-demand oxygen system available that delivers altitude-compensated pulses of oxygen only as you inhale, using as little as 1/8, typically 1/6 the amount of oxygen at 1/4 the weight and volume over conventional constant-flow systems that deliver one liter per minute per 10,000 ft. The EDS-O2D1-2G has a precision micro-electronic pressure altitude barometer that automatically determines the volume for each oxygen pulse up to pressure altitudes of 25,000 ft. Higher altitudes are compensated with pulses of greater volume. The EDS-O2D1-2G can be set to one (1) of three (3) 'D' ('day' or 'delayed') modes where it will delay responding with oxygen until it senses pressure altitudes around 5k or 10k ft., saving oxygen below altitudes at which it is not needed. It can be set to 'N' ('night' or 'now') mode for night flying where it responds from sea-level and up. Both modes provide the same amount of oxygen, automatically tracking pressure altitude changes. Also, the EDS-O2D1-2G limits its response to a maximum respiration rate of about 20 breaths per minute, virtually eliminating hyperventilation usually encountered in stressful situations. There are no scales to observe or knobs to turn as you climb or descend. Adjusting (zeroing) for new barometric pressures is not needed because the EDS-O2D1-2G responds directly to pressure altitude, as do the physiological properties of your body. The EDS-O2D1-2G is a truly automatic oxygen delivery system enhancing your safety and well-being.

How Pulse Demand Works
The patented MH EDS (Electronic Delivery System) is a one (O2D1-2G) or two-user (O2D2-2G) aviation oxygen delivery device. It is designed to deliver aviation oxygen in the most efficient, comfortable and convenient way possible. With its user-selectable settings, apnea alarm and small size, the MH EDS is the most portable and flexible electronic digital oxygen delivery system in the world. By providing a measured pulse of oxygen every time you breathe in, the MH EDS supplies the oxygen you need to stay alert and comfortable while flying. In contrast to constant flow systems that waste oxygen by supplying more than your body can use, the MH EDS provides a short pulse of oxygen as you inhale, ensuring that your oxygen is used most efficiently. Efficient oxygen delivery means you can fly further on a single oxygen refill or save space and weight with a smaller tank. It also makes it more feasible to enjoy the advantages of oxygen while flying below the altitudes where oxygen is mandated-- that can mean fewer headaches, increased alertness, and feeling less exhausted when you reach your destination. Your actual oxygen usage will be determined by your breathing rate and physiological needs at altitude. The programmability of the MH EDS means that, unlike constant-flow oxygen systems, you can "set it and forget it". By automatically detecting your pressure altitude, the MH EDS can be set to start providing oxygen immediately or at a specified altitude and will automatically adjust the oxygen flow as your altitude changes. When you're flying, don't you have more important things to do than adjust your oxygen flow during altitude changes?

The EDS-O2D1-2G System enables the general aviation pilot to fly at pressure altitudes up to 25,000 feet with safety and comfort. The EDS-O2D1-2G digital Pulse- Demand™ system reduces Oxygen consumption dramatically. Different from the "standard" constant flow systems, the EDS-O2D1-2G Pulse-Demand™ system wastes no Oxygen during the breathing cycle when oxygen is is not being delivered to the lungs. The average user will enjoy a duration increase of two to three times compared to the constant flow systems. The built in Barometer adjusts for Altitude increase while reducing the pilots work load. Abandoned unit auto shut off: If you should forget to turn your EDS off after use, it will now go into auto shut-down (drawing very little power) after 3 hours of detecting no use in an attempt to save the batteries for another flight.

The EDS-O2D1-2G now has up to 125 hours of battery life and operates with any regulator in our family. The EDS-O2D1 unit kit can upgrade any XCP or XCR system, as well as many others. Each kit includes the EDS-O2D1-2G unit, cannula, mask, 2-AA batteries, EDS to XCP Coupler kit, and tote bag. The optional ALPS FaceMask with or without microphone is the perfect addition to any EDS system.

Included:

Not Included:

Regulator
Oxygen Cylinder

Oxygen Cylinder Dimensions and Duration Table
Mountain High Documents Page - Manuals, specifications, articles, etc.

$695
1 day
EDS Accessories
00BLT-1016-xx
Flex-Fill

Flex-Fill, 18, 24, 36, 48 or 60 inch (45.7, 61.0, 91.4, 121.9, or 152.4 cm) with MH-300 Pressure Gauge
Flex-Fill systems make it easy to fill a remotely mounted oxygen cylinder. It is an extension line that plugs into the pressure gauge port on the regulator and brings a fill nipple and pressure gauge out to a more convenient location. It is ideal for use in gliders where the cylinder is mounted in a difficult to reach location. Our integrated fill-stations feature the Swagelok system for the best seal between tubing and fitting. They also have SAE straight-thread with o-ring ports that allow for the most dependable seal.
The free end has an MS22066 male fitting with 3/8-24 thread. The TA-380-N or TA-380-S transfill adapters work with this fitting.

Note: All complete EDS system kits include a cylinder with gauged valve and a regulator that does not have a gauge. The Flex-Fill normally threads into a pressure gauge port on a regulator that would include a pressure gauge. Since standard EDS systems include a regulator without a gauge (and gauge port) the regulator must be upgraded to include a version with a gauge port. For example, an XCR regulator must be upgraded to an XCR-G (MH-00REG-1030-00-Upgrade, $35). The upgraded regulator does not include a pressure gauge because the gauge is included with the Flex-Fill. The price of the upgrade is the price difference between the 2 regulators, minus $25 for the gauge that is not needed. This upgrade will be added when you order a Flex-Fill unit along with an EDS system.

If you already own a regulator with a gauge - please order the "NG" (no gauge) version. You can select that option at check-out.

$159
(18")(0.46 m)

$155
(24")(0.61 m)

$169
(36")(0.91 m)

$176
(48")(1.22 m)

$195
(60")(1.52 m)

$199
(72")(1.83 m)

1 day
00EDS-1070-00
EDS-XCP-Adapter
Adapter to Connect EDS Unit to XCP Regulator
EDS-XCP adapter line kit with male CPC fitting that allows you to use an EDS unit with your XCP or FPR regulator - a must when you upgrade one or more of your XCP stations to EDS units. This part is included with all EDS systems. 42" (1.6 m) long overall length, includes male CPC fitting for XCP or FPR regulator, reducer and 4 mm red tube for connection to EDS inlet
$10
In Stock
00EDS-1076-00
EDS-EPS
EPS External Power Supply for EDS-D1 - Sale
EDS-D1 units operate up to 40 hours on a standard 9-volt alkaline battery. However, in applications where the EDS-D1 unit will be installed and used in a powered aircraft, using the aircraft's electrical system becomes very desirable. The EDS-EPS, or simply EPS, is a precision voltage reducer, regulator and filtering device to operate up to four EDS-D1 or EDS-A1 units from an aircraft electrical system of 10 to 30 volts. The EPS will filter out surges, spikes and reversals caused by starter, flap, hydraulic motors and strobe lights. The EPS is a result of many of our "kit-building" customers requests. The internal battery in the EDS-D1 is disconnected from the power circuit while the external power jack is plugged in. MADE IN THE USA.

Please note: This is for powering either the older model EDS-A1 or the EDS-D1. If you own an O2D2, see the O2D2 EPS External Power Supply.
$75
1 Day
00EDS-1078-00
EDS-Face Mask
Face Mask for EDS Systems
EDS Replacement Face Mask. For use with EDS systems at or above 18,000 feet MSL. This item is included with all EDS systems. Includes 1 m of tubing and connector for EDS system.
$10
In Stock
00EDS-1084-00
EDS-Cannula
Cannula for EDS Systems - Standard Tip Version
EDS Replacement Cannula. This item is included with all EDS systems. Includes 1 m of tubing and connector for EDS system.

See also the Flare Tip version below.

$8
In Stock
00EDS-1084-01
EDS-Cannula-Flare-Tip
Cannula for EDS Systems - Flare Tip Version
EDS Replacement Cannula. This item is included with all EDS systems. Includes 1 m of tubing and connector for EDS system.

This "Flare Tip" version has larger openings at the tips of the nasal inserts. It is recommended if the standard version does not trigger the EDS unit at higher altitudes. It is ideal for pilots with larger nostrils.

$8
In Stock
61000-1086-00
HP-EDS-D1
Sleeve for EDS-D1a
Nylon sleeve (pouch) for EDS-D1a unit. Includes Velcro straps for mounting the unit to your arm or leg or something else. With clear plastic front so the EDS unit can be seen clearly. The clear plastic front has a hole for the speaker.
$18
1 Day
60000-0012-00
EDS-Tote-Bag-12x12
Tote Bag
For storing EDS and all accessories
Nylon, with zipper and carrying handle
Dimensions: 12" x 11" (30.5 x 27.9 cm)
$7.50
1 Day
00HDW-0012-20
Tubing-Red
Red Polyurethane Tubing
Length: 20 feet, 4 mm OD, 2 mm ID
As used to connect to the input port of the EDS
price is for 20 feet
$17.50
In Stock
00HDW-0014-20
Tubing-Blue
Blue Polyurethane Tubing
Length: 20 feet, 6 mm OD, 4 mm ID
As used to connect to the output port of the EDS
price is for 20 feet
$20
In Stock
00HDW-1378
4to6mm-Coupler-Kit
4 to 6 mm Coupler Kit
For connecting EDS inlet port to user supplied 1/8" I.D. soft polypropylene or polyethylene tubing. This 4 mm to 6 mm union and barbed tube kit allows the 4 mm polyurethane inlet line of an EDS or XCR unit to mate with any soft type 1/8" (3.2 mm) tubing. The union allows 6 mm polyurethane tubing to be optionally used as the main run from the regulator to the delivery unit. The union kit is useful in custom system installations or where other primary pressure reducing regulators will be used.

4 mm to 6 mm tubing coupler (can be used to replace the 4 mm to 4 mm couple that is usually used on the EDS inlet)
Blue polyurethane (hard) interconnect tube, 6 mm O.D. x 3 cm long with barb connector for use with user supplied 1/8" I.D. (soft) polypropylene or polyethylene tubing

$7
1 Day
EDS O2D1 Delivery Systems
EDS O2D1 Delivery System Kits with Regulator
The EDS delivery system is ideal for those who have their own oxygen cylinder, but wish to upgrade to the patented EDS on-demand system. All the EDS delivery systems include an XCR-type cylinder regulator (except 2-place FPR kits), EDS O2D1 unit, EDS cannula and face mask. The delivery systems are available in CGA-540 and DIN-477 (Euro norm) versions and with or without a gauge. The "1-Place" systems provide oxygen for one person, the "2-Place" systems provide oxygen for two people. The optional ALPS FaceMask with or without microphone is the perfect addition to any EDS system.

Included:

Not Included:

Oxygen Cylinder Dimensions and Duration Table
Mountain High Documents Page - Manuals, specifications, articles, etc.

00EDS-1046-01
O2D1-X-XCP-1P
EDS O2D1-2G 1-Place Delivery System with XCP-1P regulator, 00REG-1004-00, CGA-540 type

See a complete list and photos of included accessories here.

Note: The regulator does not have a gauge on it. A gauge is not included with this system. The photo at right shows a gauge, but it is on the cylinder valve, not on the regulator.

$850
1 day
00EDS-1046-02
O2D1-X-FPR-2P
2-Place Delivery System with 2 EDS O2D1-2G units, FPR four port regulator with CPC ports (CGA-540 type), 00REG-1018-00

See a complete list and photos of included accessories here.

Note: The regulator does not have a gauge on it. A gauge is not included with this system. The photo at right shows a gauge, but it is on the cylinder valve, not on the regulator.

$1660
1 day
00EDS-1050-00
EDS-O2D1-X-STR
EDS O2D1-2G 1-Place Delivery System with STR Inline Regulator, 00REG-1048-00 with No Connector

See a complete list and photos of included accessories here.

Many factory built in systems operate with regulated pressures that are not compatible (too high) with Mountain Highs EDS-Pulse Demand™ System. Our system requires aproximently 20psi of regulated pressure.

The Mountain High STR In-line Stabilizing Regulator allows you to operate Our EDS units from an oxygen source with pressure up to 150psi, such as an Aircraft with a built-in oxygen system. The EDS Pulse Demand™ systems can be ordered with the most common OEM type connectors for direct "Plug-n-Fly" operations.

BNC-SCOTT - BNC-SC01-100 connector fits most Beechcraft, Mooney and Piper with built-in oxygen systems.
BNC-PB-566 - Fits most Cessna single engine prior to 1980. Fits most Cessna twin engine prior to 1970.
BNC-PB-750 - Fits most late model Cessna singles 1980 on. Fits most late model Cessna twins 1970 on. Also fits Piper Matrix.

$875
1 day
00EDS-1050-01
EDS-O2D1-X-STR-BNC-Sct

EDS O2D1-2G 1-Place Delivery System with STR Inline Regulator, 00REG-1048-01 with Scott Connector

Fits most Beechcraft, Mooney and Piper with built-in oxygen systems.

See a complete list and photos of included accessories here.

Many factory built in systems operate with regulated pressures that are not compatible (too high) with Mountain Highs EDS-Pulse Demand™ System. Our system requires aproximently 20psi of regulated pressure.

The Mountain High STR In-line Stabilizing Regulator allows you to operate Our EDS units from an oxygen source with pressure up to 150psi, such as an Aircraft with a built-in oxygen system. The EDS Pulse Demand™ systems can be ordered with the most common OEM type connectors for direct "Plug-n-Fly" operations.

$925
1 day
00EDS-1050-02
EDS-O2D1-X-STR-BNC-PB750

EDS O2D1-2G 1-Place Delivery System with STR Inline Regulator, 00REG-1048-02 with PB750 Connector

Fits most late model Cessna singles 1980 on. Fits most late model Cessna twins 1970 on. Also fits Piper Matrix.

See a complete list and photos of included accessories here.

Many factory built in systems operate with regulated pressures that are not compatible (too high) with Mountain Highs EDS-Pulse Demand™ System. Our system requires aproximently 20psi of regulated pressure.

The Mountain High STR In-line Stabilizing Regulator allows you to operate Our EDS units from an oxygen source with pressure up to 150psi, such as an Aircraft with a built-in oxygen system. The EDS Pulse Demand™ systems can be ordered with the most common OEM type connectors for direct "Plug-n-Fly" operations.

$925
1 day
00EDS-1050-03
EDS-O2D1-X-STR-BNC-PB566

EDS O2D1-2G 1-Place Delivery System with STR Inline Regulator, 00REG-1048-03 with PB566 Connector

Fits most Cessna single engine prior to 1980. Fits most Cessna twin engine prior to 1970.

See a complete list and photos of included accessories here.

Many factory built in systems operate with regulated pressures that are not compatible (t0o high) with Mountain Highs EDS-Pulse Demand™ System. Our system requires aproximently 20psi of regulated pressure.

The Mountain High STR In-line Stabilizing Regulator allows you to operate Our EDS units from an oxygen source with pressure up to 150psi, such as an Aircraft with a built-in oxygen system. The EDS Pulse Demand™ systems can be ordered with the most common OEM type connectors for direct "Plug-n-Fly" operations.

$925
1 day
00EDS-1050-04
EDS-O2D1-X-STR-CPC

EDS O2D1-2G 1-Place Delivery System with STR Inline Regulator, 00REG-1048-04 with CPC Connector

Connector fits most late model Cirrus, Cessna Corvallis, Columbia's with built-in oxygen systems.

See a complete list and photos of included accessories here.

Many factory built in systems operate with regulated pressures that are not compatible (too high) with Mountain Highs EDS-Pulse Demand™ System. Our system requires aproximently 20psi of regulated pressure.

The Mountain High STR In-line Stabilizing Regulator allows you to operate Our EDS units from an oxygen source with pressure up to 150psi, such as an Aircraft with a built-in oxygen system. The EDS Pulse Demand™ systems can be ordered with the most common OEM type connectors for direct "Plug-n-Fly" operations.

$925
1 day
00EDS-1052-00
O2D1-X-XCR
EDS O2D1-2G 1-Place Delivery System with XCR-1 regulator, 00REG-1032-00, CGA-540 type - Most Popular

See a complete list and photos of included accessories here.

Note: The regulator does not have a gauge on it. A gauge is not included with this system. The photo at right shows a gauge, but it is on the cylinder valve, not on the regulator.

$850
1 day
00EDS-1054-01
O2D1-X--XCR-540-G-1P
EDS O2D1-2G 1-Place Delivery System with XCR-G axial regulator with gauge (CGA-540 type), 00REG-1030-00

See a complete list and photos of included accessories here.

$889
1 day
00EDS-1054-02
O2D1-X--XCR-540-G-2P
2-Place Delivery System with 2 EDS O2D1-2G units, XCR-G axial regulator with gauge (CGA-540 type), 00REG-1030-00, and "Y" Split Kit for connecting 2 EDS units to a single regulator

See a complete list and photos of included accessories here.

$1575
1 day
00EDS-1055-00
O2D1-X-FPR-540-G-2P
2-Place Delivery System with 2 EDS O2D1-2G units and FPR-G axial 4-place regulator (CGA-540 type) with gauge, 00REG-1016-00
The use of the four port regulator allows up to 2 additional EDS O2D1-2G or O2D2-2G units (not included) to be added to this system.

See a complete list and photos of included accessories here.

$1675
1 day
00EDS-1060-00
O2D1-X-DIN-G-FPR--2P
2-Place Delivery System with 2 EDS O2D1-2G units and FPR-G-DIN, Four Port Regulator (DIN-477 type), 00REG-1024-00
The use of the four port regulator allows up to 2 additional O2D1-2G or O2D2-2G units (not included) to be added to this system.
For use with European oxygen cylinders with DIN connections

See a complete list and photos of included accessories here.

$1725
1 day
00EDS-1061-00
O2D1-XCR-G DIN (2P) w/Split Kit
2-Place Delivery System with 2 EDS O2D1-2G units, XCR-DIN-G, DIN-477 regulator with Gauge (00REG-1036-01) and "Y" Split Kit for connecting 2 EDS units to a single regulator
For use with European oxygen cylinders with DIN connections

See a complete list and photos of included accessories here.

$1625
1 day
00EDS-1062-02
O2D1-DIN-477-G
EDS O2D1-2G 1-Place Delivery System with XCR-DIN-G, DIN-477 regulator with Gauge 00REG-1036-01
For use with European oxygen cylinders with DIN connections

See a complete list and photos of included accessories here.

$950
1 day
EDS O2D1 Breathing Systems - With Standard Aluminum Cylinders
EDS O2D1 Breathing Systems
The basic EDS system consists of the following items: the aluminum oxygen cylinder with Full-Pack or Holster Pack, the XCR or FPR primary reducing regulator, low-pressure service line, the EDS unit and the breathing cannula and face mask. The low-pressure service line is a high quality polyurethane line that is kink-resistant and flexible under varying temperatures. The cannula, face mask and service line connect to the EDS unit via color-coded "Quick-Connects" providing an air-tight fitting by hand. These fittings can be connected and disconnected many times.

Included:

Not Included:

Oxygen - The oxygen tank is empty.

See our Full-Pack cylinder harness & carry-caddy for these cylinders. Also see CMK cylinder hold-down kits.
With the optional EDS to XCP Coupler Kit, the EDS can be used with an XCP system at the same time flow meters are being used.
Also, the optional ALPS FaceMask with or without microphone is the perfect addition to any EDS system.

Oxygen Cylinder Dimensions and Duration Table
Mountain High Documents Page - Manuals, specifications, articles, etc.

00EDS-0052-01
EDS-O2D1-113-1P-H
1 Place System with EDS O2D1-2G Kit, XCR-1 Regulator, AL-113 (4.1 cu. ft.) Aluminum Cylinder and Holster Pack
See a complete list and photos of included accessories here.

Duration Table (hours)
Cylinder

Fill Pressure

Volume

Diameter
Max.
Length
Max.
Weight
Empty

Duration in Hours
(1 Place)

bar
PSI
liters
cu. ft.
cm
inch
cm
inch
Kg
lb
10K ft
15K ft
18K ft
AL-113
124
1800
92
3.2
8.13
3.20
26.67
10.50
1.11
2.45
5.6
2.7
2.1
AL-113
153
2216
113
4.0
8.13
3.20
26.67
10.50
1.11
2.45
6.9
3.4
2.6

$875
1 day
00EDS-0052-02
EDS-O2D1-113-2P-H
2 Place System with 2 EDS O2D1-2G Kits, FPR Regulator, AL-113 (4.1 cu. ft.) Aluminum Cylinder and Holster Pack
See a complete list and photos of included accessories here.

Duration Table (hours)
Cylinder

Fill Pressure

Volume

Diameter
Max.
Length
Max.
Weight
Empty

Duration in Hours
(1 Place)

bar
PSI
liters
cu. ft.
cm
inch
cm
inch
Kg
lb
10K ft
15K ft
18K ft
AL-113
124
1800
92
3.2
8.13
3.20
26.67
10.50
1.11
2.45
2.8
1.35
1.05
AL-113
153
2216
113
4.0
8.13
3.20
26.67
10.50
1.11
2.45
3.45
1.7
1.3

$1675
1 day
00EDS-0052-D1
EDS-O2D1-113-1P-H-DIN
1 Place System with EDS O2D1-2G Kit, XCR-DIN Regulator, AL-113 (4.1 cu. ft.) Aluminum Cylinder and Holster Pack
See a complete list and photos of included accessories here.

Duration Table (hours)
Cylinder

Fill Pressure

Volume

Diameter
Max.
Length
Max.
Weight
Empty

Duration in Hours
(1 Place)

bar
PSI
liters
cu. ft.
cm
inch
cm
inch
Kg
lb
10K ft
15K ft
18K ft
AL-113
124
1800
92
3.2
8.13
3.20
26.67
10.50
1.11
2.45
5.6
2.7
2.1
AL-113
153
2216
113
4.0
8.13
3.20
26.67
10.50
1.11
2.45
6.9
3.4
2.6

$950
1 day
00EDS-0053-01
EDS-O2D1-180-1P-H
1 Place System with EDS O2D1-2G Kit, XCR-1 Regulator, AL-180 (5.8 cu. ft.) Aluminum Cylinder and Holster Pack
See a complete list and photos of included accessories here.

Duration Table (hours)
Cylinder

Fill Pressure

Volume

Diameter
Max.
Length
Max.
Weight
Empty

Duration in Hours
(1 Place)

bar
PSI
liters
cu. ft.
cm
inch
cm
inch
Kg
lb
10K ft
15K ft
18K ft
AL-180
124
1800
115
4.1
8.13
3.20
34.93
13.75
1.41
3.13
7.1
3.4
2.7
AL-180
153
2216
165
5.8
8.13
3.20
34.93
13.75
1.41
3.13
10.1
4.9
3.8

$875
1 day
00EDS-0054-01
EDS-O2D1-180-1P-F
1 Place System with EDS O2D1-2G Kit, XCR-1 Regulator, AL-180 (5.8 cu. ft.) Aluminum Cylinder and Full-Pack
See a complete list and photos of included accessories here.

Duration Table (hours)
Cylinder

Fill Pressure

Volume

Diameter
Max.
Length
Max.
Weight
Empty

Duration in Hours
(1 Place)

bar
PSI
liters
cu. ft.
cm
inch
cm
inch
Kg
lb
10K ft
15K ft
18K ft
AL-180
124
1800
115
4.1
8.13
3.20
34.93
13.75
1.41
3.13
7.1
3.4
2.7
AL-180
153
2216
165
5.8
8.13
3.20
34.93
13.75
1.41
3.13
10.1
4.9
3.8

$950
1 day
00EDS-0054-02
EDS-O2D1-180-2P-F
2 Place System with 2 EDS O2D1-2G Kits, FPR Regulator, AL-180 (5.8 cu. ft.) Aluminum Cylinder and Full-Pack
See a complete list and photos of included accessories here.

Duration Table (hours)
Cylinder

Fill Pressure

Volume

Diameter
Max.
Length
Max.
Weight
Empty

Duration in Hours
(2 Place)

bar
PSI
liters
cu. ft.
cm
inch
cm
inch
Kg
lb
10K ft
15K ft
18K ft
AL-180
124
1800
115
4.1
8.13
3.20
34.93
13.75
1.41
3.13
3.55
1.7
1.35
AL-180
153
2216
165
5.8
8.13
3.20
34.93
13.75
1.41
3.13
5.05
2.45
1.9

$1695
1 day
00EDS-0054-D1
EDS-O2D1-180-1P-F-DIN
1 Place System with EDS O2D1-2G Kit, XCR-DIN Regulator, AL-180 (5.8 cu. ft.) Aluminum Cylinder and Full-Pack
See a complete list and photos of included accessories here.

Duration Table (hours)
Cylinder

Fill Pressure

Volume

Diameter
Max.
Length
Max.
Weight
Empty

Duration in Hours
(1 Place)

bar
PSI
liters
cu. ft.
cm
inch
cm
inch
Kg
lb
10K ft
15K ft
18K ft
AL-180
124
1800
115
4.1
8.13
3.20
34.93
13.75
1.41
3.13
7.1
3.4
2.7
AL-180
153
2216
165
5.8
8.13
3.20
34.93
13.75
1.41
3.13
10.1
4.9
3.8

$995
1 day
00EDS-0058-01
EDS-O2D1-248-1P-F
1 Place System with EDS O2D1-2G Kit, XCR-1 Regulator, AL-248 (8.7 cu. ft.) Aluminum Cylinder and Full-Pack
See a complete list and photos of included accessories here.

Duration Table (hours)
Cylinder

Fill Pressure

Volume

Diameter
Max.
Length
Max.
Weight
Empty

Duration in Hours
(1 Place)

bar
PSI
liters
cu. ft.
cm
inch
cm
inch
Kg
lb
10K ft
15K ft
18K ft
AL-248
124
1800
222
7.8
11.11
4.375
32.38
12.75
2.04
4.5
13.6
6.6
5.1
AL-248
139
2015
248
8.8
11.11
4.375
32.38
12.75
2.04
4.5
15.2
7.4
5.7

$975
1 day
00EDS-0058-02
EDS-O2D1-248-2P-F
2 Place System with 2 EDS O2D1-2G Kits, FPR Regulator, AL-248 (8.7 cu. ft.) Aluminum Cylinder and Full-Pack
See a complete list and photos of included accessories here.

Duration Table (hours)
Cylinder

Fill Pressure

Volume

Diameter
Max.
Length
Max.
Weight
Empty

Duration in Hours
(2 Place)

bar
PSI
liters
cu. ft.
cm
inch
cm
inch
Kg
lb
10K ft
15K ft
18K ft
AL-248
124
1800
222
7.8
11.11
4.375
32.38
12.75
2.04
4.5
6.8
3.3
2.55
AL-248
139
2015
248
8.8
11.11
4.375
32.38
12.75
2.04
4.5
7.6
3.7
2.85

$1725
1 day
00EDS-0058-D1
EDS-O2D1-248-1P-F-DIN
1 Place System with EDS O2D1-2G Kit, XCR-DIN Regulator, AL-248 (8.7 cu. ft.) Aluminum Cylinder and Full-Pack
See a complete list and photos of included accessories here.

Duration Table (hours)
Cylinder

Fill Pressure

Volume

Diameter
Max.
Length
Max.
Weight
Empty

Duration in Hours
(1 Place)

bar
PSI
liters
cu. ft.
cm
inch
cm
inch
Kg
lb
10K ft
15K ft
18K ft
AL-248
124
1800
222
7.8
11.11
4.375
32.38
12.75
2.04
4.5
13.6
6.6
5.1
AL-248
139
2015
248
8.8
11.11
4.375
32.38
12.75
2.04
4.5
15.2
7.4
5.7





$1050
1 day
00EDS-0060-01
EDS-O2D1-415-1P-F
1 Place System with EDS O2D1-2G Kit, XCR-1 Regulator, AL-415 (14.6 cu. ft.) Aluminum Cylinder and Full-Pack
See a complete list and photos of included accessories here.

Duration Table (hours)
Cylinder

Fill Pressure

Volume

Diameter
Max.
Length
Max.
Weight
Empty

Duration in Hours
(1 Place)

bar
PSI
liters
cu. ft.
cm
inch
cm
inch
Kg
lb
10K ft
15K ft
18K ft
AL-415
124
1800
371
13.1
11.11
4.375
47.37
18.65
2.83
6.25
22.7
11.0
8.6
AL-415
139
2015
415
14.7
11.11
4.375
47.37
18.65
2.83
6.25
25.4
12.3
9.6

$975
1 day
00EDS-0060-02
EDS-O2D1-415-2P-F
2 Place System with 2 EDS O2D1-2G Kits, FPR Regulator, AL-415 (14.6 cu. ft.) Aluminum Cylinder and Full-Pack
See a complete list and photos of included accessories here.

Duration Table (hours)
Cylinder

Fill Pressure

Volume

Diameter
Max.
Length
Max.
Weight
Empty

Duration in Hours
(2 Place)

bar
PSI
liters
cu. ft.
cm
inch
cm
inch
Kg
lb
10K ft
15K ft
18K ft
AL-415
124
1800
371
13.1
11.11
4.375
47.37
18.65
2.83
6.25
11.35
5.5
4.3
AL-415
139
2015
415
14.7
11.11
4.375
47.37
18.65
2.83
6.25
12.7
6.15
4.8

$1725
1 day
00EDS-0060-04
EDS-O2D1-415-4P-F
4 Place System with 4 EDS O2D1-2G Kits, FPR Regulator, AL-415 (14.6 cu. ft.) Aluminum Cylinder and Full-Pack
See a complete list and photos of included accessories here.

Duration Table (hours)
Cylinder

Fill Pressure

Volume

Diameter
Max.
Length
Max.
Weight
Empty

Duration in Hours
(4 Place)

bar
PSI
liters
cu. ft.
cm
inch
cm
inch
Kg
lb
10K ft
15K ft
18K ft
AL-415
124
1800
371
13.1
11.11
4.375
47.37
18.65
2.83
6.25
5.7
2.8
2.2
AL-415
139
2015
415
14.7
11.11
4.375
47.37
18.65
2.83
6.25
6.4
3.0
2.4

$2895
1 day
00EDS-0060-D1
EDS-O2D1-415-1P-F-DIN
1 Place System with EDS O2D1-2G Kit, XCR-DIN Regulator, AL-415 (14.6 cu. ft.) Aluminum Cylinder (with DIN-477 Port) and Full-Pack
See a complete list and photos of included accessories here.

Duration Table (hours)
Cylinder

Fill Pressure

Volume

Diameter
Max.
Length
Max.
Weight
Empty

Duration in Hours
(1 Place)

bar
PSI
liters
cu. ft.
cm
inch
cm
inch
Kg
lb
10K ft
15K ft
18K ft
AL-415
124
1800
371
13.1
11.11
4.375
47.37
18.65
2.83
6.25
22.7
11.0
8.6
AL-415
139
2015
415
14.7
11.11
4.375
47.37
18.65
2.83
6.25
25.4
12.3
9.6

$1050
1 day
00EDS-0062-01
EDS-O2D1-647-1P-F
1 Place System with EDS O2D1-2G Kit, XCR-1 Regulator, AL-647 (22.8 cu. ft.) Aluminum Cylinder and Full-Pack
See a complete list and photos of included accessories here.

Duration Table (hours)
Cylinder

Fill Pressure

Volume

Diameter
Max.
Length
Max.
Weight
Empty

Duration in Hours
(1 Place)

bar
PSI
liters
cu. ft.
cm
inch
cm
inch
Kg
lb
10K ft
15K ft
18K ft
AL-647
124
1800
526
18.6
13.33
5.250
48.51
19.10
3.81
8.40
32.2
15.6
12.1
AL-647
153
2216
647
22.8
13.33
5.250
48.51
19.10
3.81
8.40
39.6
19.2
14.9

$1095
1 day
00EDS-0062-02
EDS-O2D1-647-2P-F
2 Place System with 2 EDS O2D1-2G Kits, FPR Regulator, AL-647 (22.8 cu. ft.) Aluminum Cylinder and Full-Pack
See a complete list and photos of included accessories here.

Duration Table (hours)
Cylinder

Fill Pressure

Volume

Diameter
Max.
Length
Max.
Weight
Empty

Duration in Hours
(2 Place)

bar
PSI
liters
cu. ft.
cm
inch
cm
inch
Kg
lb
10K ft
15K ft
18K ft
AL-647
124
1800
526
18.6
13.33
5.250
48.51
19.10
3.81
8.40
16.1
7.8
6.05
AL-647
153
2216
647
22.8
13.33
5.250
48.51
19.10
3.81
8.40
19.8
9.6
7.45

$1795
1 day
00EDS-0062-04
EDS-O2D1-647-4P-F
4 Place System with 4 EDS O2D1-2G Kits, FPR Regulator, AL-647 (22.8 cu. ft.) Aluminum Cylinder and Full-Pack
See a complete list and photos of included accessories here.

Duration Table (hours)
Cylinder

Fill Pressure

Volume

Diameter
Max.
Length
Max.
Weight
Empty

Duration in Hours
(4 Place)

bar
PSI
liters
cu. ft.
cm
inch
cm
inch
Kg
lb
10K ft
15K ft
18K ft
AL-647
124
1800
526
18.6
13.33
5.250
48.51
19.10
3.81
8.40
8.1
3.9
3.0
AL-647
153
2216
647
22.8
13.33
5.250
48.51
19.10
3.81
8.40
9.9
4.8
3.7

$2995
1 day
00EDS-0062-D1
EDS-O2D1-647-1P-F-DIN
1 Place System with EDS O2D1-2G Kit, XCR-DIN Regulator, AL-647 (22.8 cu. ft.) Aluminum Cylinder (with DIN-477 Port) and Full-Pack
See a complete list and photos of included accessories here.

Duration Table (hours)
Cylinder

Fill Pressure

Volume

Diameter
Max.
Length
Max.
Weight
Empty

Duration in Hours
(1 Place)

bar
PSI
liters
cu. ft.
cm
inch
cm
inch
Kg
lb
10K ft
15K ft
18K ft
AL-647
124
1800
526
18.6
13.33
5.250
48.51
19.10
3.81
8.40
32.2
15.6
12.1
AL-647
153
2216
647
22.8
13.33
5.250
48.51
19.10
3.81
8.40
39.6
19.2
14.9

AL-647 Aluminum Cylinder, with DIN-477 valve with gauge, Volume: 22.8 cu. ft., Diameter: 13.33 cm. (5.25"), Length: 48.51 cm. (19.10")
Full-Pack padded carrying pack
XCR-DIN regulator (DIN-477 type), 00REG-1034-00

$1150
1 day
00EDS-0064-01
EDS-O2D1-682-1P-F
1 Place System with EDS O2D1-2G Kit, XCR-1 Regulator, AL-682 (24.09 cu. ft.) Aluminum Cylinder and Full-Pack
See a complete list and photos of included accessories here.

Duration Table (hours)
Cylinder

Fill Pressure

Volume

Diameter
Max.
Length
Max.
Weight
Empty

Duration in Hours
(1 Place)

bar
PSI
liters
cu. ft.
cm
inch
cm
inch
Kg
lb
10K ft
15K ft
18K ft
AL-682
124
1800
609
21.5
11.11
4.375
70.50
27.75
3.92
8.65
37.3
18.1
14.1
AL-682
139
2015
682
24.1
11.11
4.375
70.50
27.75
3.92
8.65
41.8
20.2
15.7

$1050
1 day
00EDS-0064-02
EDS-O2D1-682-2P-F
2 Place System with 2 EDS O2D1-2G Kits, FPR Regulator, AL-682 (24.09 cu. ft.) Aluminum Cylinder and Full-Pack
See a complete list and photos of included accessories here.

Duration Table (hours)
Cylinder

Fill Pressure

Volume

Diameter
Max.
Length
Max.
Weight
Empty

Duration in Hours
(2 Place)

bar
PSI
liters
cu. ft.
cm
inch
cm
inch
Kg
lb
10K ft
15K ft
18K ft
AL-682
124
1800
609
21.5
11.11
4.375
70.50
27.75
3.92
8.65
18.65
9.05
7.05
AL-682
139
2015
682
24.1
11.11
4.375
70.50
27.75
3.92
8.65
20.9
10.1
7.85

$1775
1 day
00EDS-0064-04
EDS-O2D1-682-4P-F
4 Place System with 4 EDS O2D1-2G Kits, FPR Regulator, AL-682 (24.09 cu. ft.) Aluminum Cylinder and Full-Pack
See a complete list and photos of included accessories here.

Duration Table (hours)
Cylinder

Fill Pressure

Volume

Diameter
Max.
Length
Max.
Weight
Empty

Duration in Hours
(4 Place)

bar
PSI
liters
cu. ft.
cm
inch
cm
inch
Kg
lb
10K ft
15K ft
18K ft
AL-682
124
1800
609
21.5
11.11
4.375
70.50
27.75
3.92
8.65
9.3
4.5
3.5
AL-682
139
2015
682
24.1
11.11
4.375
70.50
27.75
3.92
8.65
10.5
5.1
3.9

$2950
1 day
00EDS-0064-D1
EDS-O2D1-682-1P-F-DIN
1 Place System with EDS O2D1-2G Kit, XCR-DIN Regulator, AL-682 (24.09 cu. ft.) Aluminum Cylinder and Full-Pack
See a complete list and photos of included accessories here.

Duration Table (hours)
Cylinder

Fill Pressure

Volume

Diameter
Max.
Length
Max.
Weight
Empty

Duration in Hours
(1 Place)

bar
PSI
liters
cu. ft.
cm
inch
cm
inch
Kg
lb
10K ft
15K ft
18K ft
AL-682
124
1800
609
21.5
11.11
4.375
70.50
27.75
3.92
8.65
37.3
18.1
14.1
AL-682
139
2015
682
24.1
11.11
4.375
70.50
27.75
3.92
8.65
41.8
20.2
15.7

$1125
1 day
EDS O2D1 Breathing Systems - With Fiber Wrapped Cylinders
EDS O2D1 Breathing Systems
The EDS O2D1 system consists of the following items: the Kevlar or silica fiber-wrapped oxygen cylinder with Full-Pack or Tuff-Pack, the XCR primary reducing regulator, low-pressure service line, the EDS unit and EDS cannula and EDS face mask. The low-pressure service line is a high quality polyurethane line that is kink-resistant and flexible under varying temperatures. The cannula, face mask and service line connect to the EDS unit via color-coded "Quick-Connects" providing an air-tight fitting by hand. These fittings can be connected and disconnected many times.

Included:

Not Included:

Oxygen - The oxygen tank is empty.

See our Full-Pack and Tuff-Pack cylinder harness & carry-caddies for these cylinders. Also see CMK cylinder hold-down kits.
With the optional EDS to XCP Coupler Kit, the EDS can be used with an XCP system at the same time flow meters are being used.
Also, the optional ALPS FaceMask with or without microphone is the perfect addition to any EDS system.

Oxygen Cylinder Dimensions and Duration Table
Mountain High Documents Page - Manuals, specifications, articles, etc.

00EDS-0002-01
EDS-O2D1-011-1P-F
1 Place System with EDS O2D1-2G Kit, XCR-1 Regulator, KF-011 (11 cu. ft.) Kevlar Wrapped Cylinder and Full-Pack
See a complete list and photos of included accessories here.

Duration Table (hours)
Cylinder

Fill Pressure

Volume

Diameter
Max.
Length
Max.
Weight
Empty

Duration in Hours
(1 Place)

bar
PSI
liters
cu. ft.
cm
inch
cm
inch
Kg
lb
10K ft
15K ft
18K ft
KF-011
124
1800
303
10.7
9.27
3.62
48
18.90
0.91
2.0
18.5
9.0
7.0
KF-011
128
1850
311
11.0
9.27
3.62
48
18.90
0.91
2.0
19.1
9.2
7.2

$1495
1 day
00EDS-0002-02
EDS-O2D1-011-2P-F
2 Place System with 2 EDS O2D1-2G Kits, FPR Regulator, KF-011 (11 cu. ft.) Kevlar Wrapped Cylinder and Full-Pack
See a complete list and photos of included accessories here.

Duration Table (hours)
Cylinder

Fill Pressure

Volume

Diameter
Max.
Length
Max.
Weight
Empty

Duration in Hours
(2 Place)

bar
PSI
liters
cu. ft.
cm
inch
cm
inch
Kg
lb
10K ft
15K ft
18K ft
KF-011
124
1800
303
10.7
9.27
3.62
48
18.90
0.91
2.0
9.25
4.5
3.5
KF-011
128
1850
311
11.0
9.27
3.62
48
18.90
0.91
2.0
9.55
4.6
3.6

$2195
1 day
00EDS-0002-D1
EDS-O2D1-011-1P-F-DIN
1 Place System with EDS O2D1-2G Kit, XCR-DIN Regulator, KF-011 (11 cu. ft.) Kevlar Wrapped Cylinder (with DIN-477 port) and Full-Pack
See a complete list and photos of included accessories here.

Duration Table (hours)
Cylinder

Fill Pressure

Volume

Diameter
Max.
Length
Max.
Weight
Empty

Duration in Hours
(1 Place)

bar
PSI
liters
cu. ft.
cm
inch
cm
inch
Kg
lb
10K ft
15K ft
18K ft
KF-011
124
1800
303
10.7
9.27
3.62
48
18.90
0.91
2.0
18.5
9.0
7.0
KF-011
128
1850
311
11.0
9.27
3.62
48
18.90
0.91
2.0
19.1
9.2
7.2

$1625
1 day
00EDS-0004-01
EDS-O2D1-022-1P-F
1 Place System with EDS O2D1-2G Kit, XCR-1 Regulator, CFFC-022 (22 cu. ft.) Carbon Fiber Wrapped Cylinder and Full-Pack
See a complete list and photos of included accessories here.

Duration Table (hours)
Cylinder

Fill Pressure

Volume

Diameter
Max.
Length
Max.
Weight
Empty

Duration in Hours
(1 Place)

bar
PSI
liters
cu. ft.
cm
inch
cm
inch
Kg
lb
10K ft
15K ft
18K ft
CFFC-022
128
1850
623
22
13.2
5.2
54.1
21.3
1.9
4.2
38.1
18.5
14.4

$2225
1 day
00EDS-0004-02
EDS-O2D1-022-2P-F
2 Place System with 2 EDS O2D1-2G Kits, FPR Regulator, CFFC-022 (22 cu. ft.) Kevlar Wrapped Cylinder and Full-Pack
See a complete list and photos of included accessories here.

Duration Table (hours)
Cylinder

Fill Pressure

Volume

Diameter
Max.
Length
Max.
Weight
Empty

Duration in Hours
(2 Place)

bar
PSI
liters
cu. ft.
cm
inch
cm
inch
Kg
lb
10K ft
15K ft
18K ft
CFFC-022
128
1850
623
22
13.2
5.2
54.1
21.3
1.9
4.2
19.1
9.25
7.2

$2895
1 day
00EDS-0004-04
EDS-O2D1-022-4P-F
4 Place System with 4 EDS O2D1-2G Kits, FPR Regulator, CFFC-022 (22 cu. ft.) Kevlar Wrapped Cylinder and Full-Pack
See a complete list and photos of included accessories here.

Duration Table (hours)
Cylinder

Fill Pressure

Volume

Diameter
Max.
Length
Max.
Weight
Empty

Duration in Hours
(4 Place)

bar
PSI
liters
cu. ft.
cm
inch
cm
inch
Kg
lb
10K ft
15K ft
18K ft
CFFC-022
128
1850
623
22
13.2
5.2
54.1
21.3
1.9
4.2
9.5
4.6
3.6

$4095
1 day
00EDS-0010-01
EDS-O2D1-077-1P-T
1 Place System with EDS O2D1-2G Kit, XCR-1 Regulator, KF-077 (77 cu. ft.) Kevlar Wrapped Cylinder and Tuff-Pack
See a complete list and photos of included accessories here.

Duration Table (hours)
Cylinder

Fill Pressure

Volume

Diameter
Max.
Length
Max.
Weight
Empty

Duration in Hours
(1 Place)

bar
PSI
liters
cu. ft.
cm
inch
cm
inch
Kg
lb
10K ft
15K ft
18K ft
KF-077
124
1800
2121
74.9
19.38
7.60
75.69
29.80
5.85
12.9
130.0
62.9
49.0
KF-077
128
1850
2180
77.0
19.38
7.60
75.69
29.80
5.85
12.9
133.6
64.7
50.3

$2350
1 day
00EDS-0010-02
EDS-O2D1-077-2P-T
2 Place System with 2 EDS O2D1-2G Kits, FPR Regulator, KF-077 (77 cu. ft.) Kevlar Wrapped Cylinder and tuff-Pack
See a complete list and photos of included accessories here.

Duration Table (hours)
Cylinder

Fill Pressure

Volume

Diameter
Max.
Length
Max.
Weight
Empty

Duration in Hours
(2 Place)

bar
PSI
liters
cu. ft.
cm
inch
cm
inch
Kg
lb
10K ft
15K ft
18K ft
KF-077
124
1800
2121
74.9
19.38
7.60
75.69
29.80
5.85
12.9
65
31.5
24.5
KF-077
128
1850
2180
77.0
19.38
7.60
75.69
29.80
5.85
12.9
66.8
32.4
25.2

$3225
1 day
00EDS-0010-04
EDS-O2D1-077-4P-T
4 Place System with 4 EDS O2D1-2G Kits, FPR Regulator, KF-077 (77 cu. ft.) Kevlar Wrapped Cylinder and tuff-Pack
See a complete list and photos of included accessories here.

Duration Table (hours)
Cylinder

Fill Pressure

Volume

Diameter
Max.
Length
Max.
Weight
Empty

Duration in Hours
(4 Place)

bar
PSI
liters
cu. ft.
cm
inch
cm
inch
Kg
lb
10K ft
15K ft
18K ft
KF-077
124
1800
2121
74.9
19.38
7.60
75.69
29.80
5.85
12.9
32.5
15.7
12.3
KF-077
128
1850
2180
77.0
19.38
7.60
75.69
29.80
5.85
12.9
33.4
16.2
12.6

$4495
1 day
00EDS-0012-02
EDS-O2D1-115-2P-T
2 Place System with 2 EDS O2D1-2G Kits, FPR Regulator, KF-115 (115 cu. ft.) Kevlar Wrapped Cylinder and Tuff-Pack
See a complete list and photos of included accessories here.

Duration Table (hours)
Cylinder

Fill Pressure

Volume

Diameter
Max.
Length
Max.
Weight
Empty

Duration in Hours
(2 Place)

bar
PSI
liters
cu. ft.
cm
inch
cm
inch
Kg
lb
10K ft
15K ft
18K ft
KF-115
124
1800
3169
111.9
23.11
9.10
80.77
31.80
8.21
18.10
97.1
47
36.6
KF-115
128
1850
3257
115.0
23.11
9.10
80.77
31.80
8.21
18.10
99.8
48.3
37.6

$3495
1 day
00EDS-0014-01
EDS-O2D1-048-1P-FP
1 Place System with EDS O2D1-2G Kit, XCR-1 Regulator, CFFC-048 (39.2 cu. ft.) Carbon Fiber Wrapped Cylinder and Full-Pack
See a complete list and photos of included accessories here.

Duration Table (hours)
Cylinder

Fill Pressure

Volume

Diameter
Max.
Length
Max.
Weight
Empty

Duration in Hours
(1 Place)

bar
PSI
liters
cu. ft.
cm
inch
cm
inch
Kg
lb
10K ft
15K ft
18K ft
CFFC-048
124
1800
1109
39.2
17.2
6.8
49.5
19.5
3.1
7.0
67.9
32.9
25.6
CFFC-048
207
2216
1365
48.2
17.2
6.8
49.5
19.5
3.1
7.0
83.6
40.5
31.5

$1850
1 day
00EDS-0014-02
EDS-O2D1-048-2P-FP
2 Place System with 2 EDS O2D1-2G Kits, FPR Regulator, CFFC-048 (39.2 cu. ft.) Carbon Fiber Wrapped Cylinder and Full-Pack
See a complete list and photos of included accessories here.

Duration Table (hours)
Cylinder

Fill Pressure

Volume

Diameter
Max.
Length
Max.
Weight
Empty

Duration in Hours
(2 Place)

bar
PSI
liters
cu. ft.
cm
inch
cm
inch
Kg
lb
10K ft
15K ft
18K ft
CFFC-048
124
1800
1109
39.2
17.2
6.8
49.5
19.5
3.1
7.0
34.0
16.5
12.8
CFFC-048
207
2216
1365
48.2
17.2
6.8
49.5
19.5
3.1
7.0
41.8
20.3
15.8

$2595
1 day
00EDS-0084-01
EDS-O2D1-480-1P-F
1 Place System with EDS O2D1-2G Kit, XCR-1 Regulator, CFF-480 (18.2 cu. ft.) Silica (glass) Wrapped Cylinder and Full-Pack
See a complete list and photos of included accessories here.

Duration Table (hours)
Cylinder

Fill Pressure

Volume

Diameter
Max.
Length
Max.
Weight
Empty

Duration in Hours
(1 Place)

bar
PSI
liters
cu. ft.
cm
inch
cm
inch
Kg
lb
10K ft
15K ft
18K ft
CFF-480
124
1800
309
10.9
11.43
4.50
40.00
15.75
1.87
4.125
18.9
9.2
7.1
CFF-480
207
3000
515
18.2
11.43
4.50
40.00
15.75
1.87
4.125
31.6
15.3
11.9

$1625
1 day
00EDS-0084-02
EDS-O2D1-480-2P-F
2 Place System with 2 EDS O2D1-2G Kits, FPR Regulator, CFF-480 (18.2 cu. ft.) Silica (glass) Wrapped Cylinder and Full-Pack
See a complete list and photos of included accessories here.

Duration Table (hours)
Cylinder

Fill Pressure

Volume

Diameter
Max.
Length
Max.
Weight
Empty

Duration in Hours
(2 Place)

bar
PSI
liters
cu. ft.
cm
inch
cm
inch
Kg
lb
10K ft
15K ft
18K ft
CFF-480
124
1800
309
10.9
11.43
4.50
40.00
15.75
1.87
4.125
9.5
4.6
3.5
CFF-480
207
3000
515
18.2
11.43
4.50
40.00
15.75
1.87
4.125
15.8
7.7
6.0

$2450
1 day
00EDS-0084-D1
EDS-O2D1-480-1P-F-DIN
1 Place System with EDS O2D1-2G Kit, XCR-DIN Regulator, CFF-480 (18.2 cu. ft.) Silica (glass) Wrapped Cylinder and Full-Pack
See a complete list and photos of included accessories here.

Duration Table (hours)
Cylinder

Fill Pressure

Volume

Diameter
Max.
Length
Max.
Weight
Empty

Duration in Hours
(1 Place)

bar
PSI
liters
cu. ft.
cm
inch
cm
inch
Kg
lb
10K ft
15K ft
18K ft
CFF-480
124
1800
309
10.9
11.43
4.50
40.00
15.75
1.87
4.125
18.9
9.2
7.1
CFF-480
207
3000
515
18.2
11.43
4.50
40.00
15.75
1.87
4.125
31.6
15.3
11.9




$1695
1 day