Home > Miscellaneous > Keyspan

Keyspan by Tripp Lite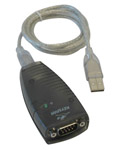 Overview
The Keyspan USA-19HS USB Serial Adapter ads an RS-232 serial port to any PC. Since many soaring instruments need to connect to a PC for data transfer (waypoints, airspace, flight logs, etc.), and new PCs don't have serial ports, this little device is a great accessory.
It works great with Cambridge, LX and all other soaring instruments and PDAs I've tested with, except ILEC SN10 units.
ILEC SN10 Owners
The Keyspan USA-19HS will not work with ILEC SN10 units. Only Belkin USB to serial adapters seem to work well with ILEC products. I don't sell Belkin USB serial adapters but they are available at www.amazon.com.
Setup Tips
Be sure to read the included manual and follow the directions before connecting the unit to your PC.
---
Connecting a PDA to a PC for Use with Condor Soaring Flight Simulator
Customers using Condor may want to connect their PDA to the PC for use with Condor. Using a PDA with soaring flight software together with Condor is a great way to get more familiar with your soaring flight software. Below are several options for connecting PDAs to PCs.
Connections to PDAs Using Bluetooth
Bluetooth is a low-power wireless radio connection. Some (but not all) PDAs and PCs have Bluetooth built-in. If both your PDA and your PC have Bluetooth capability, this may be the easiest way to connect them. However, I don't have any experience with this method of connection - so I don't know whether it is easy or difficult to setup.

Connections to PDAs Using the PDA's Desktop Cradle
The Keyspan USA-19HS Serial Adapter has a standard DB-9m (male) connector - just like PCs used to. If your PDA was provided with a desktop cradle with a DB-9m connector, you can connect it directly to the Keyspan USA-19HS. It can't power your PC, but most PDA cradles include power supplies for powering and charging the PDA. However, most newer PDAs were provided with desktop cradles with USB cables only. This adapter won't work with USB cradles.


Connections to PDAs When You Don't Have a Desktop Cradle
If you don't have a desktop cradle for your PDA, or your PDAs desktop cradle doesn't have a serial cable with a DB-9f (9-pin female) connector, then you may want to use the Goddard Condor-PC-5V-DB9f-0.3 cable. It includes a 5V wall power supply for powering the PDA and 2 DB-9f (female) connectors. One connects to the USA-19HS USB Serial Adapter and the other connects to a standard PDA power/data cable - such as a Goddard I38C-1.


Connecting to a Naviter Oudie PNA
The Naviter Oudie is an extremely popular soaring flight PNA with SeeYou Mobile soaring flight software. The Oudie is delivered with a nice power/data cable called the Oudie-Cable-Kit. It includes a mini-USB connector for the Oudie, 12V power leads, and an RJ45 connector for connection to a variety of devices. Also included in the box is a configurable RJ45 to DB-9f adapter. It can easily be configured for connection to the Keyspan USA-19HS USB Serial Adapter. Directions on how to configure the RJ45 to DB-9f adapter are shown here: Oudie-Cable-Kit. If you are already using the Oudie's power/data cable in your glider, you can order and extra here: Oudie-Cable-Kit. Note: The Oudie also has a built-in Bluetooth radio, so it may be possible to connect it to a Bluetooth enabled PC without any cables.

---
How to Order
To order a product, click on the

button next to the product.
When you are ready to complete your order, click on the

button.
Click on the small images to view larger versions.
Part #
Description
Photo
(Click on images below to view large versions)

Price

Lead-time
Keyspan-USA-19HS
Keyspan USA-19HS USB Serial Adapter
The Keyspan USA-19HS USB Serial Adapter ads an RS-232 serial port to any PC. Since many soaring instruments need to connect to a PC for data transfer (waypoints, airspace, flight logs, etc.), and new PCs don't have serial ports, this little device is a great accessory. It plugs into a USB port on the PC. A USB cable is included.

It works great with Cambridge, LX and all other soaring instruments and PDAs I've tested with, except ILEC SN10 units.

ILEC SN10 Owners
The Keyspan USA-19HS will not work with ILEC SN10 units. Only Belkin USB to serial adapters seem to work well with ILEC products. I don't sell Belkin USB serial adapters.

Tested and Works Great With:

Cambridge GPS-NAV
Cambridge 302
LX Navigation Colibri, LX20, LX4000, LX5000, LX7000, LX7007
Garrecht Volkslogger
EW Model D Flight Recorder
Compaq Aero 1500 PDA
HP hx4700 PDA

Does Not Work With:

ILEC SN10 - Use a Belkin USB to Serial Adapter instead

Setup Tips
Be sure to read the included manual and follow the directions before connecting the unit to your PC.

$34.95

No longer available here.

A better option is available here:
ftdichip.htm