Home > Friends of Cumulus Soaring, Inc. Club
Friends of Cumulus Soaring, Inc. Club
Update | Overview | Quotes from Members | Map | Benefits
---
Update
This program has been in place long enough for many of the "Friends of Cumulus Soaring, Inc." to have their 3-year period come to completion several times. The great news is that most of them have been extremely happy with the program - so much so that most of them are extending their involvement in the program. Several participants have upgraded their memberships to higher loan amounts. Some are taking the interest due as company credit to be applied to future orders. This shows that they feel that the program is a "win-win" deal. They seem to love the discounts, interest, and free phone support.

Overview
Please help support Cumulus Soaring, Inc. in a way that is great for both you and for my company. The Estimated Total Benefit to you could be as much as $2550.

Fortunately, Cumulus Soaring, Inc. has been growing nicely over the last 12 years. I love my job and enjoy supporting soaring pilots. However, high interest rate bank loans are making it tough to make a good living.

As you can probably tell from the many product comparisons, my newsletters, my soaring-links.com and Soaring News web sites, and other value added resources on my web site - I am working hard to support the soaring community. If you feel my company and services are valuable, please consider helping out.

The plan is simple. To join the "Friends of Cumulus Soaring, Inc." club, you send me a check as a loan for either $1,000 to $10,000 (see benefits comparison table below). I pay back the loan to you with interest in 3 years. During those 3 years, you receive free phone support, significant discounts (depending on the level of membership). This is definitely a win-win deal. For a complete overview of the benefits, please see the Benefits section below. Perhaps the best benefit is that you will know that you are helping to support my company and my family. And by helping me, you help me support the world soaring community.

The loans will allow me to pay down my bank debt. You have my personal guarantee that the loan will be paid back.

Upon receiving your check I will send you a promissory note for your records.

Please seriously consider lending your support. My family and I would greatly appreciate it. Please send your check to the address below.

Certainly, many of you have already shown your support by buying from me as much as possible. That is appreciated very much!

I am extremely thankful to those of you who have already contributed! If you have already contributed, please tell your friends about the program. As you can see from the quotes and map below, some of your soaring friends are strong supporters of the program and my business.

Thank you,

Paul Remde
Cumulus Soaring, Inc.
8661 Connelly Place
Savage, MN 55378
---
"Paul has done any outstanding job of supporting the soaring community the last ten years with not only a large inventory of soaring hardware/software systems but also an in depth knowledge of how these systems function that he graciously shares with the soaring community. I want to help insure his support and dedication to our sport continues by becoming a "Friend of Cumulus Soaring", I hope other people will join me in "Friends of Cumulus Soaring" to help insure Paul is successiful in growing his support to our wonderful sport." Dick Butler
"I have known Paul for several years and he is truly dedicated to his family, his business, soaring, and making sure that his customers are satisfied and get the most out of the products that they purchase from Cumulus Soaring. My investment in "Friends of Cumulus Soaring" was a "no-brainer", help Paul provide service and support to the soaring community while receiving a good return on that investment." Geoff Weck, Crystal Lake, IL
"Supporting Cumulus Soaring is a big "win" in many different ways. First, the Friends of Cumulus Soaring receive a very fair interest rate on the dollars invested. Second, the discount offered, phone support and free shipping provided to the Friends is truly outstanding! Finally, this investment provides real support to Cumulus Soaring which has been a key supplier to the soaring community. It will help Paul to continue to supply the very best offering of specialized products needed by soaring enthusiasts around the world! The investment in Cumulus Soaring really helps all of us and supports the overall sport of soaring." - Renny Rozzoni - Albuquerque, NM

"I support Paul and Cumulus Soaring because of his dedication to and support of the sport of Soaring." - Mike Greenwald, Minooka, IL

"I know a win-win when I see one, so I was eager to join "Friends of Cumulus." I am more than pleased with the outcome. A risk free loan with a good return, discounts and free shipping. How can you go wrong?" - Ron Gregg, Houston, TX
"My reasons for becoming a financial supporter of Cumulus Soaring are many. For one, you provide us with personal services regarding our soaring equipment that we cannot get elsewhere. And, you can supply the equipment that we need. I am pleased to be part of the group that helps you continue to assist the gliding community in these ways." - Jim Hard, St. Paul Park, MN
"Paul, You have been a huge help to me in mastering -- well, grappling with -- the latest soaring hardware and software. It has enhanced my flying enjoyment a great deal, and I'm very happy to be able to help you in return." - Mitch Polinsky, Stanford, CA

"Paul's program makes sense to me as I expect to spend several thousand dollars for additional instrumentation in the coming months. In addition, the return is better than I am able to get on a similar term CD." - Frank DeBacker, Highlands Ranch, CO

"I had been giving micro-finance a great deal of thought as a way of improving the financial performance of some of my nest egg. At the same time, I became aware of Paul's program. It's a perfect fit. Better performance than anything the bank will offer, I know the owner of the company I am investing in, I am familiar with his product offering, and I know his customer base. I can think of no better "sleep-soundly" investment than this in terms of micro-finance." - Anonymous friend in SC
---
Map of Members of Cumulus Soaring, Inc.
As you can see in the map below, I have been blessed with contributors to the Friends of Cumulus Soaring, Inc. club from all over the U.S. and even Australia and Japan! I am very appreciative of their wonderful support!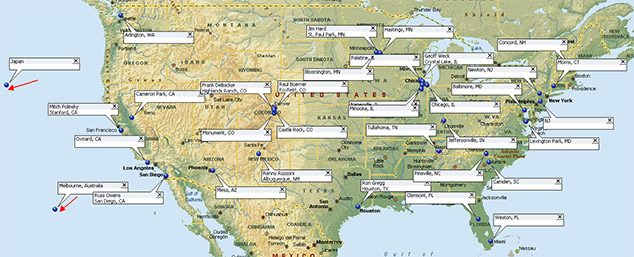 Click on the image above to view the full resolution version.
---
Benefits
The level of benefits varies with the amount of the loan. Please see the table below.
Summary of Benefits
Loan
Amount
Discount
*
Discount
Savings
(Assuming
$5000 spent
over 3 yrs)
FREE
Phone
Support
($60/hour, 3 years)
Interest
Earned after
3 years **
(1.63964%/yr)
Estimated
Total
Benefit
***
$1,000
0.5%
$25
1 hour/year
($180 total value)
$50
$255
$2,000
1%
$50
2 hours/year
($360 total value)
$100
$510
$4,000
2%
$100
4 hours/year
($720 total value)
$200
$1020
$6,000
3%
$150
6 hours/year
($1080 total value)
$300
$1530
$8,000
4%
$200
8 hours/year
($1440 total value)
$400
$2040
$10,000
5%
$250
10 hours/year
($1800 total value)
$500
$2550
* Discounts apply only to orders paid by check or IPN (Intuit Payment Network). But the discounts apply to ALL products sold by Cumulus Soaring, Inc. I have no problem with you ordering a batch of instruments or other items for you and your friends at the full discount - as long you pay with a single check or IPN payment.
** The interest rate is 1.63964%, compounded annually and paid at the end of loan. At the end of the 3 year loan I will send you a check for the amount of the loan plus the interest earned. Or you have the option to renew the loan for another 3 years. In that case I will pay you the interest only.
*** It is difficult to estimate the total benefit since it depends on the amount you order and therefore the amount of the discount. I have assumed that you will spend $5000 with my company over the 3 years. If you opt for the $10,000 loan and spend $5000 over 3 years your savings from the discount of 5% would be $250. Some will spend more (and save more), some will spend less (and save less). This is not a promised benefit, just an estimated benefit. You are not required to spend any particular amount of money. Also, the Estimated Total Benefit assumes that you use all the free training hours. I charge $60/hour for support. Note: The Estimated Total Benefit does not include the payback of the loan. For example, if you loaned me the $10,000, you would get the Estimated Total Benefit of $1800 plus the return of the $10,000 from the loan.